American Owned and Operated - 100% American Based Customer Service - Custom Sword Engraving - No Accounts Required
Functional Ronin Katana Sword with Saya
Hanwei Samurai Swords for sale are built for both collectors and the practitioner communities alike. These swords combine quality and value, performance and design. Hanwei and Paul Chen pieces available include the practical series, training and cutting katanas and the performance collection. Buy all types of popular samurai swords on sale now.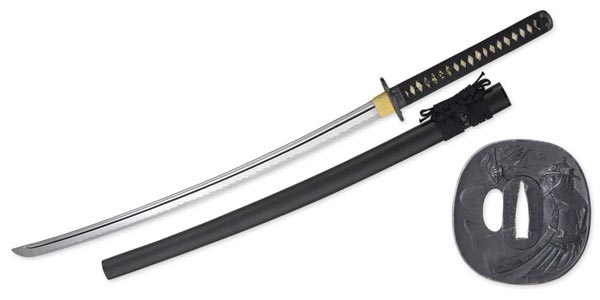 Hanwei Katana Swords:
Ronin Katana Swords
Functional Sharpened Blade
$1299.99


Ronin Katana Swords for sale are 40 ½ inches in all. These sharpened samurai swords are designed in honor of the story of Asano, Kira and the 47 Ronin as told in Japanese legends and movies. The folded high carbon steel blade is 28 ½ inches in all and designed in the Shinogi Zukuri style. These popular katanas have etchings on the blackened iron Tsuba that depict the marching followers of Asano. The hand forged blade is manufactured with folded Swedish powder steel (K120C) and features a Hi. They have an 11 inch handle and weigh approximately 2 pounds, 7 ounces. They feature an authentic Japanese design and have quality fittings. They are made by Hanwei. Buy the 47 Ronin Katana Swords for $1299.99.