American Owned and Operated - 100% American Based Customer Service - Custom Sword Engraving - No Accounts Required
Functional Practical XL Katana Sword with Saya
Hanwei Samurai Swords for sale are built for both collectors and the practitioner communities alike. These swords combine quality and value, performance and design. Hanwei and Paul Chen pieces available include the practical series, training and cutting katanas and the performance collection. Buy all types of popular samurai swords on sale now.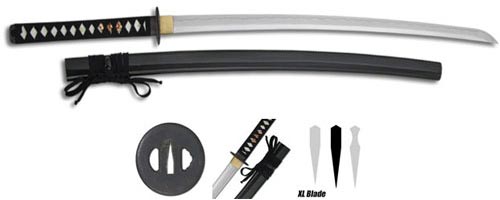 Hanwei Katana Swords:
Practical XL Katana Swords
Functional Sharpened Blade
$329.99


Practical XL Katana Swords for sale measure 40 ½ inches in all. These sharpened samurai swords are from the Hanwei Practical Series and are built for martial arts. They feature the Performance XL blade geometry which is designed for heavy target cutting and Tameshigiri practice. Hanwei uses the fittings of the Practical Series which makes the Practical XL series functional yet affordable. The forged 28 ½ inch 1566 steel blades are designed for cutting with an edge hardness of HRC60 and spine at HRC40. They are differentially hardened in the traditional Japanese manner. The removable 11 inch handle features a traditional and tight Japanese wrap of imitation leather which provides a secure grip for Tameshigiri. They are made by Hanwei and weigh 2 pounds 11 ounces. They have a point of balance at 5 inches and a 3/4th inch Sori. The guard is 0.26 inch thick and 1.43 inch wide. The tip is 1.08 inch wide and 0.15 inch thick. Buy the Practical XL Katana Swords for $329.99.