American Owned and Operated - 100% American Based Customer Service - Custom Sword Engraving - No Accounts Required
Night Angel Retibution Collectibles
Movie Swords and officially licensed replicas are offered for sale from some of Hollywood's greatest films and television masterpieces. Swords Direct is pleased to present officially licensed movie collectibles, daggers and swords from movies such as the Lord of the Rings and the Hobbit trilogies, 300, 47 Ronin and Conan. Buy the officially licensed knives from Rambo, Predator, The Expendables and The Walking Dead Katana Swords. All licensed collectibles include a Certificate of Authenticity and many also include display plaques. All major credit cards accepted plus PayPal with low flat rate shipping.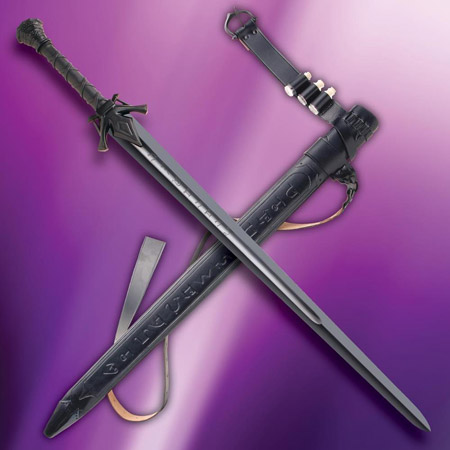 Night Angel:
Retribution Sword Set
Includes Custom Scabbard
Officially Licensed
$379.99


Retribution Swords from Night Angel for sale measures 37 inches in all. From the thrilling Night Angel book trilogy by Brent Weeks, comes the mysterious sword Retribution. These real swords feature an unsharpened 30 inch high carbon steel blade. The blade is 2 1/4th inch wide and has been blackened to a midnight black color finish. Adorning each side of the blade are ancient runes which translate to the words mercy and justice. The black blade finish coordinates with the intricate pommel and guard. The hand-and-a-half length handle is covered in genuine black leather. The matching scabbard is crafted of durable black leather. It is embossed with runes on the front. The wide leather belt is attached with a laced pattern and features three small glass vials with corks. Both the metal butt of the scabbard and the buckle feature a blackened finish. These officially licensed swords also include a Certificate of Authenticity. They are hand crafted and weigh 2 pounds. Buy the real version of the Retribution Sword from Night Angel for $379.99.


Popular Licensed Movie Replicas