American Owned and Operated - 100% American Based Customer Service - Custom Sword Engraving - No Accounts Required
Lord of the Rings Movies Anduril Swords of Aragorn
Lord of the Rings Swords and Hobbit Movie Swords from the epic works of JRR Tolkien and the award-winning film adaptations by Peter Jackson. Officially licensed swords are available from The Lord of the Rings: The Fellowship of the Ring, The Two Towers and The Return of the King. The Hobbit: The Unexpected Journey, The Desolation of Smaug and The Battle of the Five Armies replicas are also available. These authentically detailed movie swords and replicas are made from the actual film props by Weta Workshop of New Zealand. Made by United Cutlery, each item includes display and Certificate of Authenticity.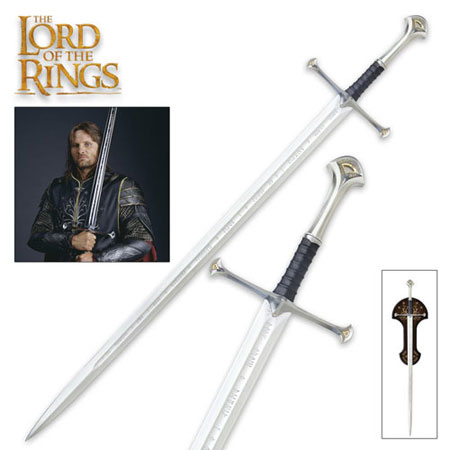 Lord of the Ring Swords:
Anduril Swords
Carried by Aragorn
Includes Wall Display Plaque
Limited Supplies
$329.99




Item: UC1380

Anduril Swords are authentic reproductions of the real swords used in the popular film adaptations of the Lord of the Rings and The Hobbit. The official Anduril Sword of Aragon is an exact replica of the prop created by Weta Workshop of New Zealand and wielded by King Elessar of Gondor in The Lord of the Rings movies. The Anduril was forged from the shards of the sword Narsil, carried by Aragorn. Aragorn wielded Anduril against the evil forces of Sauron and upon final victory, Aragon assumed the name Elessar. These officially licensed massive swords measure 52 7/8 inches in length and feature a 40 5/8 inch, double tempered, 420 stainless steel, false-edged (unsharpened) blade. The blade is inscribed with runes in the Tolkien language of Quenya.The handle is wrapped in genuine leather. The Anduril sword features an antique silver-plated, solid metal cross guard and pommel. The hilt features 24kt gold plated fittings. The Anduril Sword of Aragon also includes a wooden wall display plaque which boasts an intricate silk-screen graphic. Mounting hardware and instructions for display and a Certificate of Authenticity are included with the sword. Buy the officially licensed movie collectibles from Lord of the Rings and the Hobbit Movies beautifully detailed by United Cutlery for $329.99.
---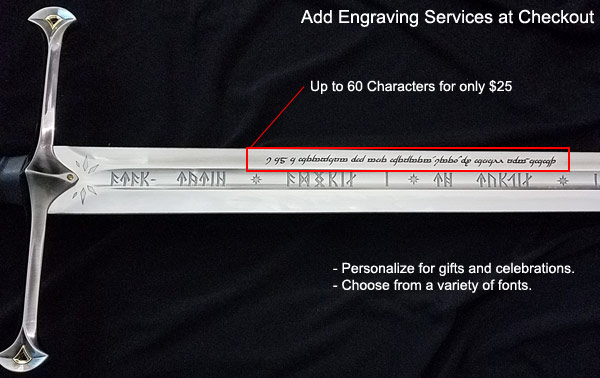 ---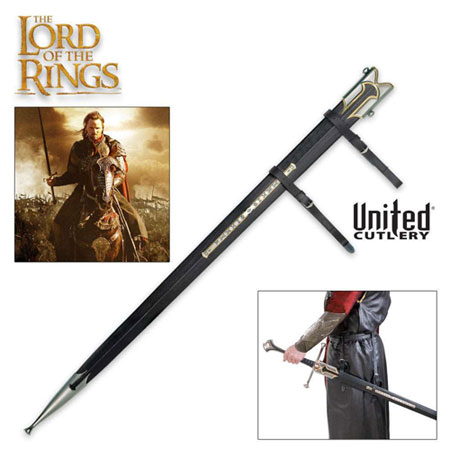 Lord of the Ring Swords:
Anduril Sword Scabbard
$219.99




Item: UC1396
Anduril Sword Scabbards for sale are designed to fit the official Anduril Sword of Aragon made by United Cutlery. The scabbard measures 44 5/8th inches in all and is meticulously crafted just like the scabbard that was featured in the popular Lord of the Rings movies and Hobbit films. It has a genuine leather wrap and real leather straps. It has a solid metal collar with solid metal fittings, buckles and tip which features a 24kt gold plated finish. Displayed on the side of the scabbard is a metal plate that is inscribed with the word Anduril. Buy the officially licensed Lord of the Rings Scabbard to fit the official UC1380 Anduril Sword for $219.99.

Sword Engraving Services
Personalize Swords and Knives:
- As Low As $25 Per Piece
- Individualize Each Piece
- Engrave Logos and Text
- Engrave Names and Phrases
- Engrave Your Logo
- Choose From Assorted Fonts
Click Here To Customize
Military Swords
Award Ceremonies
Executive Gifts
Private Organizations
Holidays & Birthdays
Weddings & Celebrations