American Owned and Operated - 100% American Based Customer Service - Custom Sword Engraving - No Accounts Required
Rambo First Blood Knife Premium Edition
Rambo Knives for sale are officially licensed movie replicas. These premium edition knives are exact replicas of those carried by Sylvester Stallone in the popular Rambo movies. They are available in both standard and signature editions. Knives are available from the movies First Blood Part 1 and First Blood Part II and Rambo III. The Rambo Machete from the fourth installment in the series and a boot knife are also available as well as the new editions from the latest movie, Rambo Last Blood. Buy the entire Rambo Movie Knife Collection on sale now while supplies last.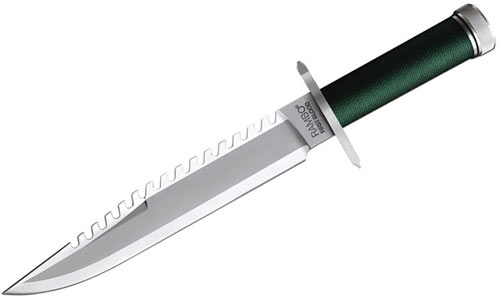 Official Rambo Movie Knives:
Rambo Knife
First Blood Part I
Includes Premium Leather Sheath
$129.99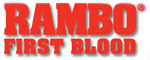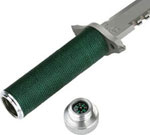 Rambo First Blood Part I Movie Knife for sale is from the new Masterpiece Collection. These popular knives measure 14 inches in all and are some of the finest, premium quality editions ever made. They are officially licensed replicas and are also the most accurate version of the Rambo movie knives. They feature a sharp, 420 stainless steel blade that is ¼ inch thick. Just like the knife used by Sylvester Stallone in First Blood Part 1, these Rambo movie knives have 14 saw tooth on the matte satin finish blade. The aluminum handle is wrapped in green nylon cord and is hollowed out in order to hold the emergency Survival Kit. A Survival Kit Silencer is incorporated in the handle to prevent the Survival Kit from jiggling around and making noise. A precision compass is mounted in the non-magnetic aluminum butt cap of the knife. The stainless steel guard features lashing holes and has both a standard and Phillips head screwdriver point. Each one of these Rambo Movie Knives includes a top grain, custom genuine buffalo leather sheath with a leg tie. The premium sheath also includes a sharpening stone in the front pouch. Buy the official Rambo First Blood Part 1 Movie Knives for $129.99.
Please note: This item cannot be shipped to residents of NY.