American Owned and Operated - 100% American Based Customer Service - Custom Laser Engraving - No Accounts Required
Conan the Barbarian Swords
Conan Swords and daggers for sale are from the popular movie Conan the Barbarian starring Arnold Schwarzenegger. The official Conan Atlantean Swords are hand forged from 1085 high carbon steel and tempered. Conan Father's Sword and Valeria's Swords are also available. Buy the officially licensed movie replicas made by Windlass Steelcrafts.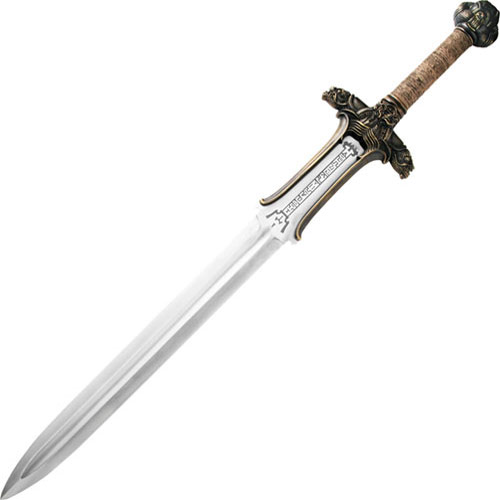 Conan The Barbarian Swords:
Conan Atlantean Swords
Hand Forged High Carbon Steel
Fully Detailed Guard and Pommel
$279.99



Conan Movie Swords for sale are 38 7/8th inches in all and weigh almost 8 ½ pounds. These Atlantean Swords are officially licensed collectibles from the movie Conan the Barbarian. They feature a hand forged 28 1/8th inch display ready, unsharpened 1085 beveled edged high carbon steel blade that has been tempered to 52 HRC. The Atlantean is an exact version of the sword used in the movie including the intricate details on the guard and pommel. They feature an engraving of runes on the quarter inch thick blade. The grip is 5 ¾ inches and the blade is 3 3/16th of an inch wide. These swords also include a certificate of authenticity. Buy these officially licensed Conan the Barbarian Movie Swords, the popular Atlantean Sword for $279.99.
---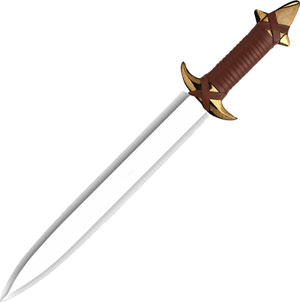 Conan The Barbarian Swords:
Conan Daggers
High Carbon Steel Blade
$159.99



Conan Daggers for sale are from the popular Conan the Barbarian movies. These daggers are designed just like the one seen in the film. They measure 22 inches in all and have a 14 ¾ inch blade with an unsharpened edge. The Conan Dagger weighs approximately 2 pounds, 8 ounces. These officially licensed movie daggers feature a 1065 high carbon steel unsharpened blade. They have a genuine brass guard and pommel that has an antiqued finish. They have a leather wrapped handle. They also include a wooden display box. These officially licensed movie replicas are manufactured by Windlass Steelcrafts. Buy the Conan the Barbarian Daggers for $159.99.
---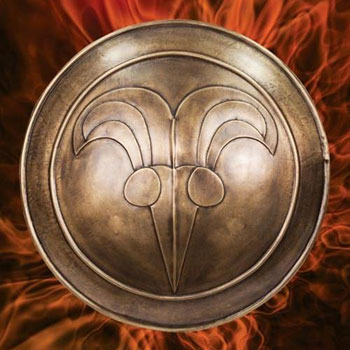 Medieval Shields:
Conan Movie Cimmerian Shield
Official Movie Replica
$169.99


Conan Movie Cimmerian Shields for sale are 24 inch round shields. These Cimmerian Shields are functional licensed replicas from the Conan the Barbarian movie. They are faithful reproductions of the real shields seen in the film. They are crafted of steel with an antique bronze finish. They weigh a hefty 9 pounds 3 ounces. They have two leather straps on the back. Buy the Cimmerian Shield from Conan the Barbarian for $169.99.