American Owned and Operated - 100% American Based Customer Service - Custom Sword Engraving - No Accounts Required
Musketeer Rapier Swords with Scabbard
Fencing Swords and rapiers for sale include a variety of functional, stage combat and display swords. These pieces feature traditional and historical designs like the famous swept hilt rapier. Buy all types of popular fencing swords, gloves, helmets and bucklers on sale now.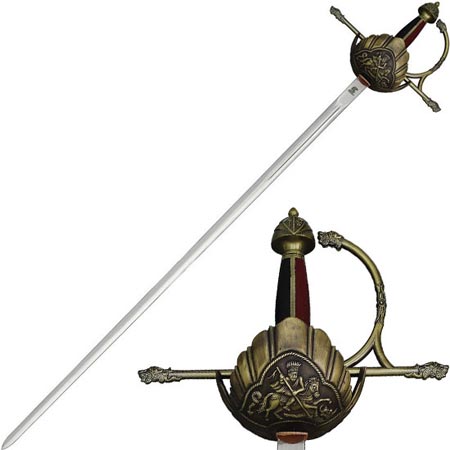 Fencing Swords:
Musketeer Rapier Swords
High Carbon Steel Blade
Cup Hilt With Decorative Etch
$349.99


Musketeer Fencing Rapier Swords for sale are 46 inches in all and weigh 2 pounds 11 ounces. These Musketeer Swords are based upon real rapiers that were used in the late 16th century. They feature an ambidextrous basket hilt which combines both the cup hilt and swept hilt styles. The sharpened functional 37 ½ inch high carbon steel blade is 1 inch wide and 3/16th of an inch thick. The wooden handle features a twisted wire wrapped 3 ¼ inch grip. The hilt is plated with polished nickel silver making them ideal for theater or stage use or as a movie prop. Buy these Musketeer Fencing Rapier Swords for $349.99.
Limited Availability - Check Stock Before Ordering