American Owned and Operated - 100% American Based Customer Service - Custom Sword Engraving - No Accounts Required
Swept Hilt Rapier with Flex-Tempered Blade
Fencing Swords and rapiers for sale include a variety of functional, stage combat and display swords. These pieces feature traditional and historical designs like the famous swept hilt rapier. Buy all types of popular fencing swords, gloves, helmets and bucklers on sale now.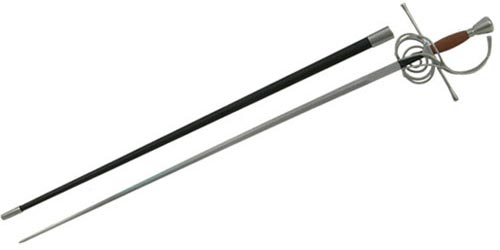 Fencing Swords:
Swept Hilt Rapier Swords
High Carbon Flex-Tempered Blade
Wooden Grip
$349.99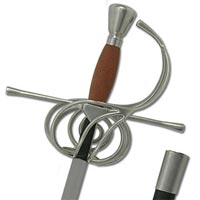 Swept Hilt Rapier Swords for sale are 44 ¾ inches in all. These swords are inspired by real historical rapiers that were used during the 17th century in Renaissance Europe. This modern version is built for stage combat and features a 36 5/8th inch, flex tempered 1566 high carbon steel blade. They have a hardwood grip, stainless steel hilt and a steel hand guard and pommel. The rigid genuine leather scabbard features nickel silver fittings. These swords weigh 2 lb 1 ounce and have a 3 inch point of balance and 27 inch point of harmonics. The width of the guard is .75 inches and 0.24 inch thick. The tip width is 0.40 inch and 0.10 inch thick. Buy the Swept Hilt Rapier Swords for $349.99.
---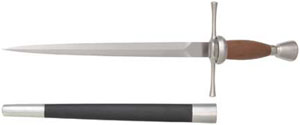 Fencing Swords:
Main Gauche with Wood Handle
$149.99


Main Gauche for sale are 16 5/8th inches in all. The main gauche is intended to complement the Swept Hilt Rapier by featuring historical details and exceptional balance. They have a wooden grip and feature an 11 inch blade that is made of 1566 high carbon steel. They have a stainless steel hilt and weigh 9 ounces. Buy the Main Gauche for $149.99.
---

Fencing Swords:
Leather Fencing Sword Belt with Frog
$39.99
Leather Sword Belts with universal frog for sale is made of black leather with an attached frog and metal skull and crossbones accents. This one size fits most sword belt will hold one sword, main gauche, dagger or dirk. Buy this popular sword belt to compliment your sword set for just $39.99.