American Owned and Operated - 100% American Based Customer Service - Custom Laser Engraving - No Accounts Required
M48 OPS Survival Series Kama with Sheath
M48 OPS Series for sale are made by United Cutlery. Shop and buy from a large selection of unique blades and tools from M48 Ops. Items include modern survival knives, axes, tomahawks, survival spears, machetes, bowie knives, harpoons and more.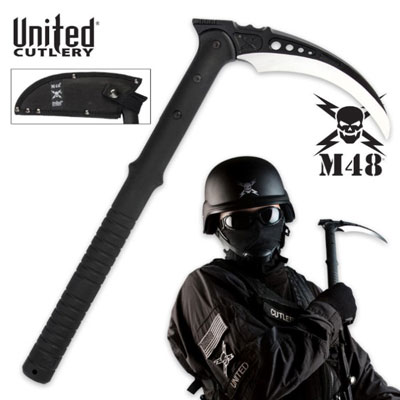 M48 Kommando Series:
M48 Kama
Blade Sheath
$59.99


M48 Tactical Kama for sale is from the lightweight and functional series. The M48 Tactical Kama measures 15 ½ inches in all. They have a sharpened 8 ¼ inch, precision cast 2Cr13 stainless steel head with a 5 ¼ inch blade. The M48 Tactical Kama features the traditional design of a Japanese or Filipino Kama. However, the sharpened blade and M48 construction make the Tactical Kama better suited for karate and Chinese Martial Arts. They have a sturdy nylon reinforced fiberglass handle with a textured grip. They also include a reinforced nylon M48 blade sheath. Buy the M48 Tactical Kama for only $59.99.