American Owned and Operated - 100% American Based Customer Service - Custom Laser Engraving - No Accounts Required
M48 Survival and Tactical Equipment
M48 Tactical Series for sale are made by United Cutlery. Shop and buy from a large selection of unique blades and tools for military operations and tactical use. Items include modern survival axes, tactical tomahawks, survival spears, machetes, bowie knives, harpoons and more.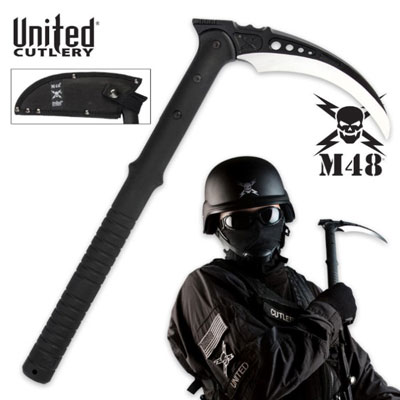 M48 Tactical Series:
M48 Tactical Kama
Blade Sheath
$59.99


M48 Tactical Kama for sale is from the lightweight and functional series. The M48 Tactical Kama measures 15 ½ inches in all. They have a sharpened 8 ¼ inch, precision cast 2Cr13 stainless steel head with a 5 ¼ inch blade. The M48 Tactical Kama features the traditional design of a Japanese or Filipino Kama. However, the sharpened blade and M48 construction make the Tactical Kama better suited for karate and Chinese Martial Arts. They have a sturdy nylon reinforced fiberglass handle with a textured grip. They also include a reinforced nylon M48 blade sheath. Buy the M48 Tactical Kama for only $59.99.