American Owned and Operated - 100% American Based Customer Service - Custom Sword Engraving - No Accounts Required
Fantasy Swords for Sale
Fantasy Swords for sale include a wide variety of designs. This collection of fantasy swords includes official Kit Rae collectibles and mythical creatures designed for display. Buy fantasy swords, knives and collectibles all on sale now.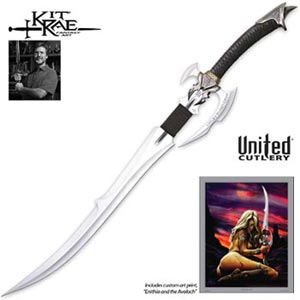 Kit Rae Swords:
Avoloch Sword of Enethia


Avoloch the Sword of Enethia has a 24 ½ inch blade. These swords measure 43 ¾ inches overall. The blade is 1/8 inches thick and is made of 420J2 Stainless steel. The Avoloch Sword of Enethia is one of the fantasy swords chronicled in Kit Rae's Swords of the Ancients Collection, a fantasy legend that winds through numerous centuries, legends and myths. Enethia is a Mithrodin warrior in service to the Great Realm who fought against the Dark One. Forged by the dark elf Tethietol, the side blade is engraved with Avoloch will yield to none but truth written in Anglecal runes. The word Avoloch is from the ancient language of Thant, and it was the name used for the warrior class of the Mithrodin, translated as: soldier of steel. The Avoloch features three 420J2 stainless steel blades (false edged), engraved runes, finely detailed cast metal hilt parts with an antique finish and a genuine leather wrapped blade and handle grip. These Kit Rae designed fantasy swords include a custom art print and a certificate of authenticity.


Popular Licensed Movie Replicas
Sword Engraving Services
Personalize Swords and Knives:
- As Low As $25 Per Piece
- Individualize Each Piece
- Engrave Logos and Text
- Engrave Names and Phrases
- Engrave Your Logo
- Choose From Assorted Fonts
Click Here To Customize
Military Swords
Award Ceremonies
Executive Gifts
Private Organizations
Holidays & Birthdays
Weddings & Celebrations