American Owned and Operated - 100% American Based Customer Service - Custom Sword Engraving - No Accounts Required
Gambler Sword Cane with Custom Etched Blade
Sword Canes became popular during the 18th and 19th centuries. It was less socially acceptable to openly carry a sword in public, so the stick sword emerged. This was a cane, umbrella or stick with an edged blade inside. These function as a typical walking cane or working umbrella with a sharpened, edged blade that could be easily and quickly removed from the shaft.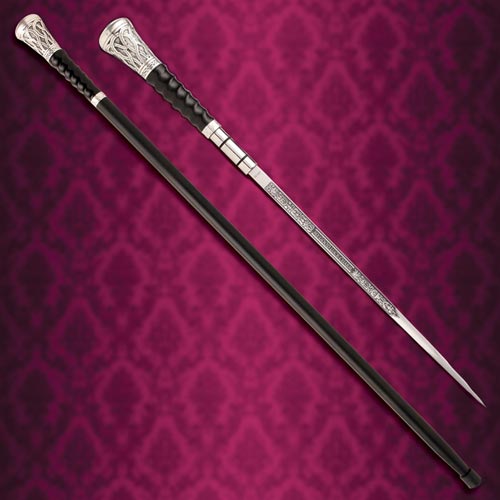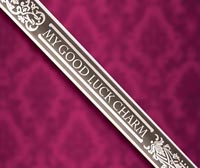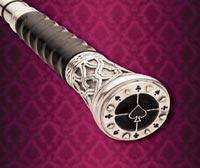 Sword Canes:
Gambler Sword Canes
Custom Etched Blade
Sterling Silver Plated Accents
Genuine Horn Grip
$179.99


Gambler Sword Canes for sale are 37 inches in all and weigh 2 ¼ pounds. The 24 ¼ inch handle features a 15 ¼ inch triangular pointed blade that is engraved with My Good Luck Charm. These cane swords feature a gambling motif. The top of the pommel features an enameled spade that is surrounded by engraved suits of a deck of cards. The pommel and fittings are plated in real sterling silver. The handle features a twisted 3 ½ inch carved black horn grip. These canes feature sturdy construction including a black powder coated strong aluminum shaft and a rubber cane foot. Pull apart the secure lock mechanism to reveal a functional triangular pointed rapier like blade. The top of the sword cane can be unscrewed to access a hidden pair of genuine bone dice. Buy the Gambler Sword Cane for $179.99.

Limited Availability - Check Stock Before Ordering