American Owned and Operated - 100% American Based Customer Service - Custom Laser Engraving - No Accounts Required
Colt Damascus Hunting Knives
Knives and daggers of all types from top manufacturers. We carry Medieval Battle Ready Daggers, Scottish Dirks, Cold Steel knives, Colt, Military Knives like Dark Ops, Leatherman, Mission Knives, Smith and Wesson, SOG, Spyderco, United Cutlery Knives, Gil Hibben Knives, Bowies and Survival Knives.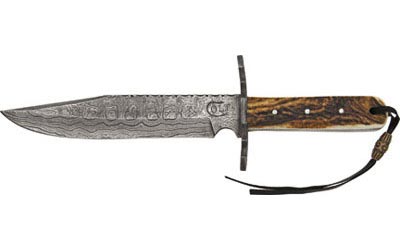 Colt Knives:
Damascus Hunter Knife
Custom Leather Sheath
$69.99


Colt Damascus Hunter Knife for sale has a Damascus steel blade. These knives measure 12 ¼ inches in all. The sharpened, full tang blade measures 7 5/8th inches. The blade bears the official Colt Knives emblem stamped upon it. The Damascus Hunter Knife features a beautiful genuine stag handle with a Damascus steel guard. These knives include a custom brown leather belt sheath and a lanyard. Buy this Colt Damascus Hunter Knife for $69.99.