American Owned and Operated - 100% American Based Customer Service - Custom Laser Engraving - No Accounts Required
United Knives for Sale
Knives for Sale include popular items from top name manufacturers like Cold Steel, Kizlyar Supreme and Kabar. Special Forces and US Military, Army and Marine knives are available in a variety of designs. Officially licensed movie knives from Rambo and The Expendables films are all available. Buy all kinds of blades from survival knives to medieval daggers all on sale now.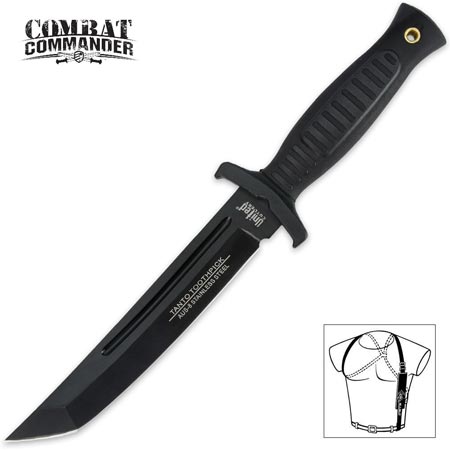 United Cutlery Knives:
Commander Tanto
Includes Shoulder Sheath
$24.99


Commander Tanto for sale is from the popular Combat Series of knives made by United Cutlery. These knives feature a sharpened, 6 ¼ inch tanto size blade. The stainless steel blade has a non-reflective anodized black coating and a blood groove. The tip of the blade features a tanto point. The Commander Tanto measures 10 11/16th inches in all and has an injection-molded handle which gives the knife a secure non-slip grip. These knives also feature a lanyard hole and a shoulder harness. Buy the Commander Tanto Knife for $24.99.
---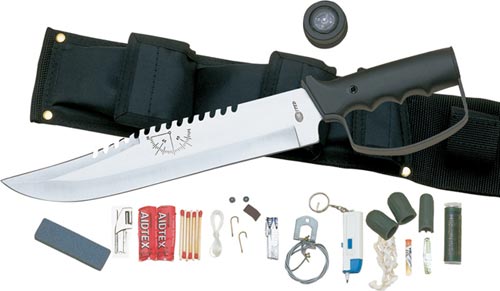 United Cutlery Knives:
Bushmaster Survival Knives
Includes Custom Sheath
$49.99


One of the United Cutlery items for sale is the popular Bushmaster Survival Knife. These survival knives feature a highly sharpened 420 J2 stainless steel blade. The Bushmaster measures 15 inches in all with a sharpened 10 inch blade. The black cast metal handle contains a survival kit which includes band-aids, sewing needles, matches, a surgical blade, a magnifying glass, fish hooks with line and sinker. The heavy duty nylon scabbard has a can opener, sharpening stone, animal snare, snakebite kit and a flashlight. Buy these Bushmaster Survival Knives for $49.99. Note: This item cannot ship to NY, MA, CA, DE
---
United Cutlery Knives:
Honshu Full Tang Tanto
Includes Custom Sheath
$59.99


Honshu Full Tang Tanto Knives for sale are part of the United Cutlery collection and feature a highly sharpened, full tang blade. The blade is manufactured of 440-stainless steel. The blade features a thick, sharp and full tang construction. A robust blood groove extends over the entire 10 ¾ inch sharpened blade. These Honshu Tanto knives measure 16 ¾ inches in all and include a black leather scabbard. The rubberized grip provides a functional design to this knife. These knives also have an oversized hand guard that is made of stainless steel. Buy the Honshu Full Tang Tanto Knives for $59.99.