American Owned and Operated - 100% American Based Customer Service - Custom Sword Engraving - No Accounts Required
Functional Kukri Knives
Kukri Knives for sale are inspired by the design of the Nepalese all-purpose knife that found its origin in ancient Greek curved-blade swords. The word Kukri can be spelled khukuri, khukri,or Kukri. However, they all refer to this same type of knife that typically features an inwardly curved blade. Buy all types of Kukri shaped knives now on sale.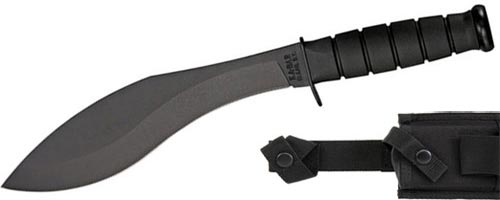 Kukri Knives:
Combat Kukri by KA-BAR
Includes Custom Sheath
Cro-Van Steel
$99.99
KA-BAR
KA-BAR Combat Kukri Machete for sale is 13.375 inches in all. These Combat Kukri Machetes feature an 8 inch blade that is crafted of 1095 Cro-Van steel. These fixed blade knives are proudly made in the USA. They have a black finish and a flat grind. They have an HRC of 56-58 with 20 degree edge angles. The butt cap and guard have a powdered metal finish. They weigh 0.90 pounds and have a Kraton G handle. They include a Molle compatible heavy duty polyester sheath. Buy the KA-BAR Combat Kukri Machete for $99.99.
---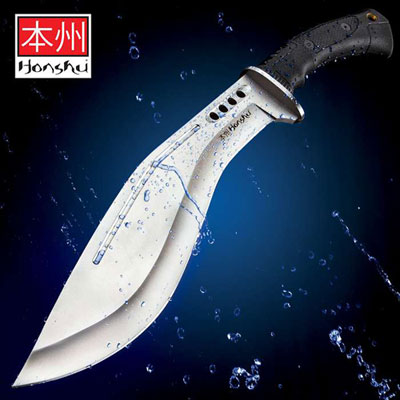 Kukri Knives:
Modern Kukri Knife
Includes Custom Sheath
$89.99
This Honshu Boshin Modern Kukri combines the characteristic inward curve blade profile of a traditional Kukri with contemporary construction. It features modern-day TPR with 7Cr13 stainless steel and full tang construction. This Boshin Kukri has a blood groove and a polished satin finish. The TPR handle is waterproof and rugged. The grip has ergonomic contours and is textured for enhanced gripping capability. This full tang Kukri has a 13 1/8th inch 7Cr13 stainless steel blade. They are 19 5/8th inches overall and include a reinforced, real leather belt sheath. Buy this Modern Kukri for $89.99.
---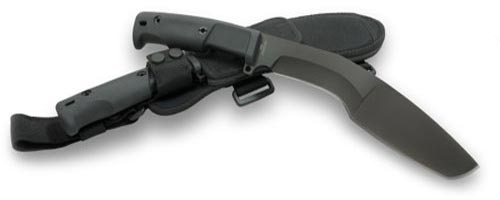 Kukri Knives:
Kukri Knife by Extrema Ratio
Includes Custom Sheath
Made in Italy
$359.99


Extrema Ratio Kukri for sale is 14 7/8th inches in all. The Extrema Ratio Kukri is based upon the design of the Nepalese all-purpose knife that found its origin in ancient Greek curved-blade swords. This contemporary version features a combination grind blade with a hollow grind close to the handle which is used to produce the sharp edge without sacrificing the overall thickness of the back of the blade. Whereas, the tip is flat ground and well-angled for maximum penetration. The durable edge is a result of the Bohler N690 steel which was used for the blade steel. The 9 ½ inch blade has Mil-C-13924 Burnishing for the black finish. These knives are made in Italy and use a grip polymer called Forprene which provides a very sure and comfortable grip even when wet. Buy the Extrema Ratio Kukri for $359.99.
---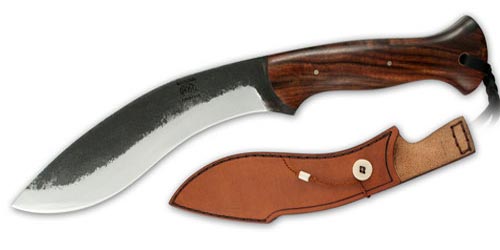 Kukri Knives:
Gurkha Kukri by Citadel
Full Tang with Palisander Handle
Includes Custom Sheath
$419.99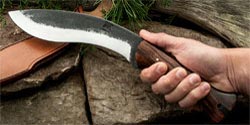 Citadel Gurkha Kukri Knives for sale are 13 3/4th inches in all. The Gurkha Kukri Knives feature a high carbon steel blade that is hand forged from imported DNH7 steel and differentially hardened in the Japanese style. DNH7 is a high carbon steel, similar in composition to AISI 1075, that responds well to the differential hardening. The hardening process used on these knives creates a hard and durable edge while supplying a softer and more resilient spine and tang. The 8 ¼ inch blade is sharpened to a full convex profile which greatly increases the durability of the hardened edge. These full tang knives weigh 18.5 ounces. They include both a full grain genuine leather belt sheath and a nylon zipper storage pouch. The real leather belt sheath features the button and loop fastener used by Citadel which securely holds the knife but can be easily broken if the knife needs to be deployed quickly. The zippered pouch is included for long term storage of the knife. The handle is crafted of Palisander, a superior hardwood which is popular in high end furniture production. The handle has a deep brown reddish color. Buy the Citadel Gurkha Kukri Knives for $419.99.