Popular CRKT Knives
Military Grade Knives of all types from top manufacturers. We carry FirstEdge, CRKT, Cold Steel Knives, Smith and Wesson Military and Police Knives, SOG Knives, United Cutlery Knives, Gil Hibben Knives, Large Bowies and Survival Knives.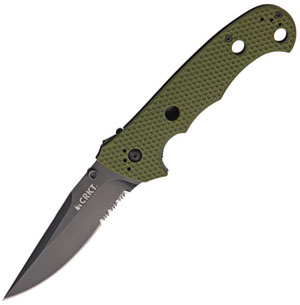 CRKT Knives:
Hammond Cruiser Knife
$29.99


CRKT Hammond Cruiser knivesM feature a black 3 ¾ inch partially serrated blade. The 8Cr14MoV stainless steel clip point blade is engraved with CRKT. This EDC knife is 5 ¼ inches closed. The green Zytel handle features a thumb stud, pocket clip and a functional lanyard hole. Buy the Hammond Cruiser knives for $29.99.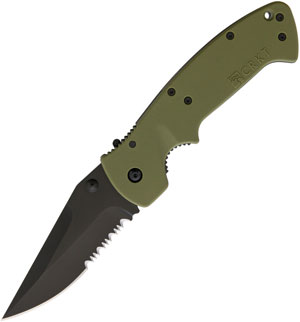 CRKT Knives:
Crawford Kasper Linerlock Knife
$29.99


CRKT Crawford Kasper Linerlock knife features a black 3 7/8th inch partially serrated 8Cr14MoV stainless steel drop point blade. This EDC knife is 5 3/8th inches closed and has a green Zytel handle. The handle features a functional lanyard hole, a thumb stud and a pocket clip. Buy the CRKT Crawford Kasper Knives for $29.99.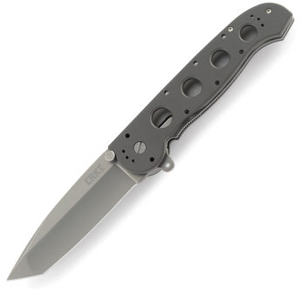 CRKT Knives:
M16-04S Classic Knife
Designed by Kit Carson
$79.99


CRKT M16-04S Classic Locking Liner Knives are popular everyday carry knives that are inspired by the legacy of by Kit Carson. The CRKT M16-04S Classic Knife features the original M16 design with an AUS 8 stainless steel tanto blade. They are 9.31 inches overall in the open position with a 5.34 inches closed length. The AUS8 tanto style blade is 3.9 inches with a 0.14 thickness and 57-59 HRC. They have a hollow grind, plain edge and bead blast finish. The handle is made of 6061 aluminum with a 420J2 liner. They weigh 5.5 ounces. Buy the CRKT M16-04S Classic Knives for $79.99.