American Owned and Operated - 100% American Based Customer Service - Custom Sword Engraving - No Accounts Required
Popular CRKT Knives
Military Grade Knives of all types from top manufacturers. We carry FirstEdge, CRKT, Cold Steel Knives, Smith and Wesson Military and Police Knives, SOG Knives, United Cutlery Knives, Gil Hibben Knives, Large Bowies and Survival Knives.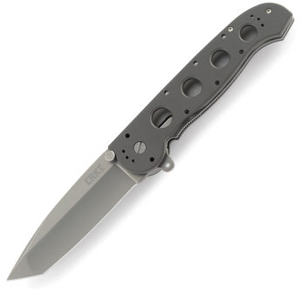 CRKT Knives:
M16-04S Classic Knife
Designed by Kit Carson
$79.99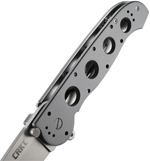 CRKT M16-04S Classic Locking Liner Knives are popular everyday carry knives that are inspired by the legacy of by Kit Carson. The CRKT M16-04S Classic Knife features the original M16 design with an AUS 8 stainless steel tanto blade. They are 9.31 inches overall in the open position with a 5.34 inches closed length. The AUS8 tanto style blade is 3.9 inches with a 0.14 thickness and 57-59 HRC. They have a hollow grind, plain edge and bead blast finish. The handle is made of 6061 aluminum with a 420J2 liner. The LAWKS®, the Lake and Walker Knife Safety innovation, sets a pin between the locking liner and the frame. This type of design makes the locking liner less likely to disengage during use. Push the LAWKS® lever forward to engage the safety. To close the knife, pull the LAWKS® lever back, slide the locking liner over and fold the blade into the closed position. The blade of the locking liner is deployed by the Carson Flipper. For the carry system, they have a four position clip. They weigh 5.5 ounces. Buy the CRKT M16-04S Classic Knives for $79.99.
---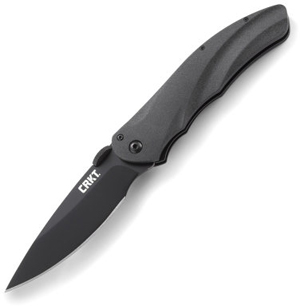 CRKT Knives:
Argus Black Knife
Spring Assisted
$109.99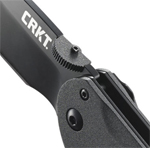 CRKT 7030K Argus Black Locking Liner Knives weigh 4.2 ounces. The spring assisted, locking liner Argus Black Folding Knives are designed by Matthew Lerch. They are 8.13 inches in all in the open position and 4.56 inches closed. The blade is 3.55 inches long, 0.12 inches thick and has a 57-59 HRC. The plain edge blade has a drop point and flat edge. The AUS 8 blade also features a black corrosion resistant coating. These locking liners have a 6061 cold forged aluminum handle. The Argus Black is opened by pressing down and out on the thumb disk. The carry system is a single position clip with the tip down. Buy the Argus Black Locking Liner knives for $109.99.
---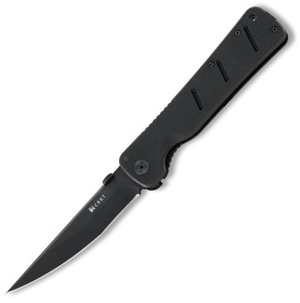 CRKT Knives:
Otanashi Noh Ken Knife
Folding Tactical Knife
$114.99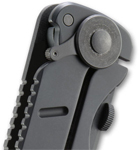 CRKT Otanashi noh Ken Knives for sale weigh 6.4 ounces in all. The popular Otanashi noh Ken Knives are designed by James Williams, a former US Army officer. These knives are 10.13 inches in all in the open position. They feature an AUS8 4.52 inch blade that is 0.16 inches thick and has an HRC of 58-59. These modified tanto style knives have a plain edge and a hollow grind. The design is inspired by the Osoraku style blade made famous by the samurai warrior Takeda Shingden. The blade is laser etched with Japanese kanji that means the silent sword. Otanashi noh Ken Knives have a non-reflective bead blast and a black corrosion resistant coating. The handle material is black G10. They are a frame lock with the LAWKS safety system and a single carry position clip. Buy the CRKT Otanashi noh Ken Knives for $114.99.
---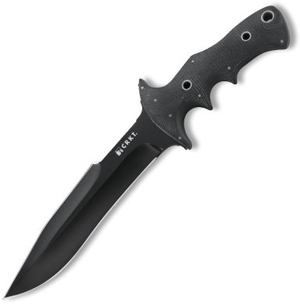 CRKT Knives:
Hammond FE7 Knife
Includes Custom Sheath
$249.99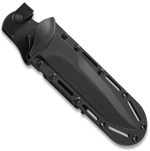 CRKT Hammond FE7 Fixed Blade Knives have a black G10 handle with finger grooves. The fixed blade FE7 Knives are designed by Jim Hammond. They are 12.5 inches in all. The 01 tool steel blade has a black powder coat finish. The blade is 7.38 inches long, 0.24 inches thick and has a 56-58 HRC. The plain edge blade has a drop point and hollow grind. These knives include a high-strength nylon glass fiber reinforced sheath with Molle Clip. Buy the CRKT FE7 fixed blade knives for $249.99.
---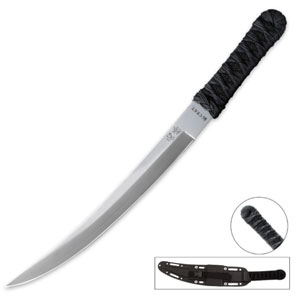 CRKT Knives:
Hisshou Fixed Blade Knife
Includes Custom Sheath
$279.99


CRKT Hisshou Fixed Blade Knives are 18.38 inches in all and weigh 16.4 ounces. The Hisshou was designed by James Williams specifically for military personnel and special forces operators. They have a sharp 13 inch full tang, dual grind high carbon steel blade. The stain finish plain edged blade is crafted in YK-30 steel with a 57-59 HRC. They have a traditional cord wrapped handle. The Kydex sheath features a Molle Compatible convertible belt clip system. Buy the CRKT Hisshou Fixed Blade Knife for $279.99.