American Owned and Operated - 100% American Based Customer Service - Custom Sword Engraving - No Accounts Required
Bushido Katana Sword with Custom Saya & Tsuba
Bushido Swords for sale are available from popular manufacturers like Ten Ryu, Musashi, Hanwei and more. All of these traditional Japanese swords feature sharpened blades and include scabbards. This collection includes samurai katanas, tanto and wakizashi length pieces. Buy Bushido swords, samurai katanas and more all on sale now.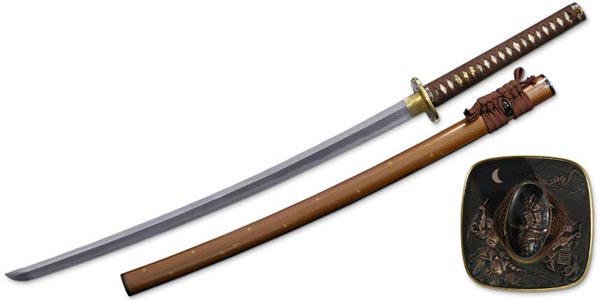 Bushido Swords:
Bushido Katana Swords
Functional Sharpened Blade
$1199.99


Bushido Samurai Katana Swords for sale feature a sharpened, hand forged blade that has been folded from K120C powder steel. These swords measure 40 inches in all. The blade measures 27 ¼ inches in all. The Golden Bushido Swords have a genuine, white rayskin 11 ½ inch handle. These samurai katana swords feature a traditional Japanese samurai sword construction and are made by Hanwei. The tsuka-ito and the sageo are woven from premium Japanese cotton. The tsuba is made of a blackened and bronzed iron. The tsuba features relief artwork of a Samurai battle scene that is detailed in silver and gold. These swords include a wooden scabbard that has an antiqued gold lacquer finish that is inlaid with brass sakura flowers. The fuchi and kashira are crafted of blackened bronze and have brass detailing. The kojira, koiguchi, and kuigata are made of polished horn. The habakis are made of brass. These Hanwei feature a gold plated brass handle that depicts relief artwork of a Samurai battle scene. The Bushido Swords include a cleaning kit and a cloth storage sleeve. Buy the Bushido Samurai Katana Swords for $1199.99.