American Owned and Operated - 100% American Based Customer Service - Custom Laser Engraving - No Accounts Required
Thor Hammer Replicas
Movie Swords and officially licensed replicas are offered for sale from some of Hollywood's greatest films and television masterpieces. Swords Direct is pleased to present officially licensed movie collectibles, daggers and swords from movies such as the Lord of the Rings and the Hobbit trilogies, 300, 47 Ronin and Conan. Buy the officially licensed knives from Rambo, Predator, The Expendables and The Walking Dead Katana Swords. All licensed collectibles include a Certificate of Authenticity and many also include display plaques. All major credit cards accepted plus PayPal with low flat rate shipping.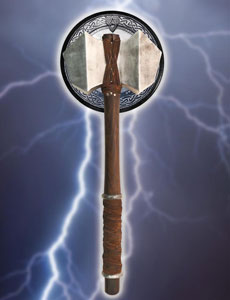 Thor Replica:
Ancient Thor Hammer
$129.99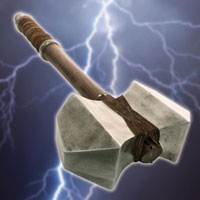 Thor Hammer for sale measures 21 ½ inches in all with an 8 inch head. Ancient Thor Hammer, features a solid aluminum head and includes a round Viking shield display plaque. The dark color stained handle has steel rings which contrast against the suede wrap. The head of the Ancient Thor hammer measures 8 inches by 4 ¾ inch by 3 inch. These collectibles weigh approximately 4 pounds, 8 ounces. A suede lace braid contrasts against the metal hammerhead. Buy the Ancient Thor Hammer which includes the Viking shield plaque for only $129.99.
---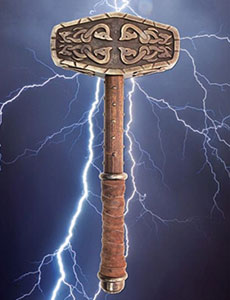 Thor Replica:
Historical Thor's Hammer
$149.99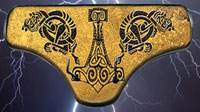 Thor Hammer for sale is 18 inches in all. The head measures 8 ¼ inch by 1 ¼ inch thick. These replicas feature a genuine wooden shaft that has been hand stained. The shaft features brass rivets and a contoured suede wrapped grip. The Thor Hammer has solid metal parts and a solid metal head. The metal is antiqued giving the hammer an aged appearance. The Thor Hammer weighs approximately 4 pounds and includes a custom wall display plaque. Buy the historical Thor Hammer for $149.99.

Popular Licensed Movie Replicas