American Owned and Operated - 100% American Based Customer Service - Custom Sword Engraving - No Accounts Required
Fencing Swords for Sale
Fencing Swords category includes Swept Hilt Rapiers, Stage Swords and Main Gauche. Many of the fencing swords have high carbon steel blades with blunt tips. Also offered is a great selection of high-carbon flex-tempered steel blades, Practical stage rapiers with unsharpened high carbon steel blades with button tip and Renaissance style fencing swords.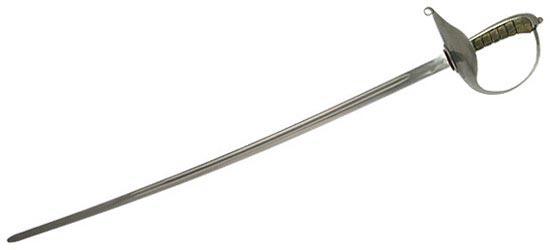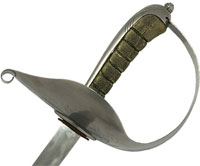 Fencing Swords:
Hutton Fencing Sabre
$159.99


Hutton Fencing Swords for sale are popular for combining both a fencing sword with an authentically-designed military sword. These fencing swords measure 37 ¼ inches in all. They have a 31 inch military sabre style blade. Cas Iberia manufactured these swords combining function with a traditional military training sword design. These swords have authentic details and styling with a modern day construction that permits use in stage , fencing or for sparring. In order to appeal to the reenactment community and the fencing community, Cas Iberia used high-carbon Flex-tempered blades. Using similar dimensions to real military swords, such as using a slightly short and lightweight blade, the Hutton Fencing Swords closely mirror the proportions of real military sabres. The Hutton Fencing Swords have a button tip which provides an additional safe sparring component. These fencing swords typically weigh 1 lb, 6 ounces and have a handle length of 6 inches. Buy these authentically designed, functional Hutton Fencing Swords for a unique item that combines the authentic style of a real military sabre with functional fencing sword potential for $159.99.
---

Fencing Swords:
Leather Fencing Sword Belt with Frog
$39.99
Leather Sword Belts with universal frog for sale is made of black leather with an attached frog and metal skull and crossbones accents. This one size fits most sword belt will hold one sword, main gauche, dagger or dirk. Buy this popular sword belt to compliment your sword set for just $39.99.

Sword Engraving Services
Personalize Swords and Knives:
- As Low As $25 Per Piece
- Individualize Each Piece
- Engrave Logos and Text
- Engrave Names and Phrases
- Engrave Your Logo
- Choose From Assorted Fonts
Click Here To Customize
Military Swords
Award Ceremonies
Executive Gifts
Private Organizations
Holidays & Birthdays
Weddings & Celebrations