American Owned and Operated - 100% American Based Customer Service - Custom Sword Engraving - No Accounts Required
Predator Movie Knives for Sale
Predator Knives used in the Predator Movies. There is a signature edition, with the 'Dutch Shaefer' signature from the original Predator and a standard non signature edition. Each version comes with a display plaque and a certificate of authenticity. This knife was also used by Adrian Brody in the latest 2010 movie Predators.



Predator Movie Knives:
Predator Knife Signature Edition
Officially Licensed
$129.99



Predator Signature Edition Knife. Knife is 20.5 inches overall. It has a 14.75 inch stainless steel 0.25 inch thick blade with Dutch Schaefer signature. Handle is 5.75 inches overall with a black wood with matte finish, steel guard and pommel. The knife alone is 40 oz. Comes with black wood display plaque. Limited edition of 5000. Knife is serialized and includes certificate of authenticity. Made by Master Cutlery.

---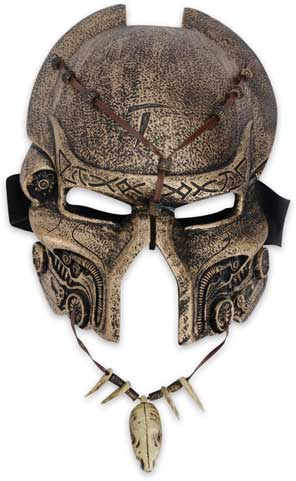 Predator Tribal Mask
$29.99


Predator Tribal Mask with poly resin constructed. Complete with Velcro straps in rear to hold it tightly to your head, this Predator mask can be worn, or displayed with your other movie memorabilia. Overall size 12 inch x 9 inch. Includes wall hanging chain. Highly realistic details mirror that of the actual mask worn in the movie for only $29.99.
---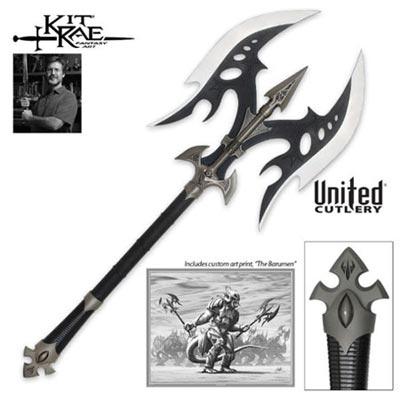 Kit Rae Axes:
Black Legion Battle Axe
Stainless Steel Blades
Genuine Leather Wrapped Shaft
$139.99


Kit Rae Black Legion Battle Axe for sale is 35 inches in all. The popular Black Legion Axe is an officially licensed collectible from the Swords of the Ancients Collection by Kit Rae. The 15 inch blades feature polished 420 stainless steel with black accents and fantasy cut outs. The solid metal handle has an antique finish and features intricate engraving. The handle is wrapped in real leather. They include an art print that features the Black Legion in action. They also include a Certificate of Authenticity. Buy the officially licensed Kit Rae Black Legion Battle Axe for $139.99.
---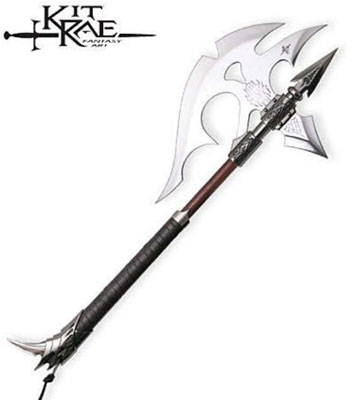 Kit Rae Axes:
Black Legion War Axe
Stianless Steel Blade
Solid Metal Fittings and Back Spike
$139.99


Kit Rae Black Legion War Axe for sale measures 3 feet in all. This Black Legion War Axe is a special edition piece from the popular Kit Rae Swords of the Ancients Collection. The axe features a 19 ½ inch 420-stainless steel blade that is engraved with runes. The opposite side of the blade edge features a spike. These pieces have solid metal fittings. The black steel handle shaft is wrapped with a real leather grip. The War Axe also includes a custom art print and a certificate of authenticity. Buy the Black Legion War Axe from the officially licensed Swords of the Ancients Collection by Kit Rae for $139.99.

Popular Licensed Movie Replicas