American Owned and Operated - 100% American Based Customer Service - Custom Sword Engraving - No Accounts Required
Great Wave Katana Sword with Saya
Hanwei Samurai Swords for sale are built for both collectors and the practitioner communities alike. These swords combine quality and value, performance and design. Hanwei and Paul Chen pieces available include the practical series, training and cutting katanas and the performance collection. Buy all types of popular samurai swords on sale now.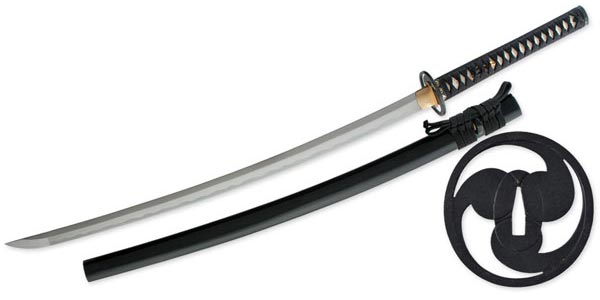 Hanwei Katana Swords:
Great Wave Katana Swords
Functional Sharpened Blade
$899.99


Great Wave Katana Swords for sale measure 40 ½ inches in all. The Great Wave Katana Swords have a functional, sharp blade that is designed for cutting. The 28 inch blade is hand forged from T10 high carbon steel and differentially hardened to produce a unique hamon. The black iron tsuba features the Tomoe, a Japanese abstract shape that is reminiscent of a swirl or a comma which was adopted as the symbol of the samurai. These swords have a traditional black lacquered wooden scabbard and a traditional Japanese cotton tsuka-ito. They have a point of balance at 5 inches. The tip is 0.25 inch thick, 0.95 inch wide. The guard is 0.30 thick, 1.27 inch wide. The Sori is ¾ inches. The 11 ½ handle features genuine rayskin and has a black premium Japanese cotton wrap. These samurai swords weigh 2 pounds 10 ounces. Buy the Great Wave Katana Swords for $899.99.

Sword Engraving Services
Personalize Swords and Knives:
- As Low As $25 Per Piece
- Individualize Each Piece
- Engrave Logos and Text
- Engrave Names and Phrases
- Engrave Your Logo
- Choose From Assorted Fonts
Click Here To Customize
Military Swords
Award Ceremonies
Executive Gifts
Private Organizations
Holidays & Birthdays
Weddings & Celebrations