Lord of the Ring Swords for Sale
Lord of the Rings Swords and Hobbit Movie Swords from the epic works of JRR Tolkien and the award-winning film adaptations by Peter Jackson. Officially licensed swords are available from The Lord of the Rings: The Fellowship of the Ring, The Two Towers and The Return of the King. The Hobbit: The Unexpected Journey, The Desolation of Smaug and Battle of the Five Armies replicas are also available. These authentically detailed movie swords and replicas are made from the actual film props by Weta Workshop of New Zealand. Made by United Cutlery, each item includes display and Certificate of Authenticity.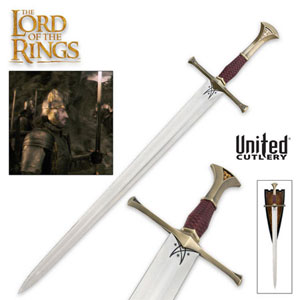 Lord of the Rings:
Isildur Swords


Officially licensed reproduction sword from The Lord of the Rings. This is sword of Isildur, who cut the One Ring from Sauron's hand with the broken hilt of his father's sword, Narsil. Isildur chose to keep the One Ring rather than destroy it. This item is meticulously recreated using 420 stainless steel for the blade, which offers a heavy blood groove down its length. The cast metal handle features leather wrapped grip and pommel bearing the One Tree image. 36 1/2" blade, 47 1/2" overall. United Cutlery, UC2598.