Swords and Popular Collectibles
Swords Direct offers hundreds of swords for sale. Shop over thirty categories of swords. Movie swords, display and practice swords in addition to functional Samurai Swords, Practical Katana Swords, Broadswords, Scimitar Swords, Pirate Swords and Medieval Swords. We accept all major credit cards and PayPal.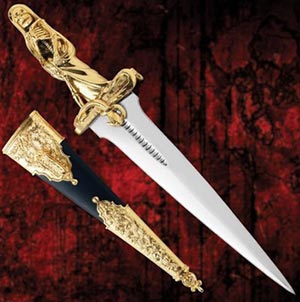 Roman Swords:
Dagger of Azrael
Custom Display Box
$189.99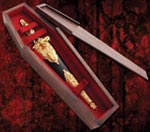 Dagger of Azrael for sale is modeled after a 19th Century dagger that was made in France. The Azrael Dagger is 18 inches in all with an 11 inch blade. The blade shape is similar to ancient Egyptian willow leaf designs. The fittings are plated of genuine 24kt gold. Designed in homage to Azrael, the Archangel of Death, the handle features a 3D cloaked skeleton with a serpent wrapped upon the guard. This popular dagger also includes a lined coffin-shaped box for display. The matching scabbard features exceptional filigree metalwork for the fittings and black leather. The dagger weighs approximately 1 ½ pounds. Buy the popular and beautiful Dagger of Azrael for $189.99 .