American Owned and Operated - 100% American Based Customer Service - Custom Sword Engraving - No Accounts Required
Assassin's Creed Vambrace Knife
Assassins Creed Movie Replicas for sale. Buy the officially licensed Assassin's Creed Hidden Blade of Auilar Extension Knife Vambrace, Sword of Odeja, and Aguilar's Throwing Knife Set with book display. These are the officially licensed replicas from the popular video game series and Assassin's Creed movie.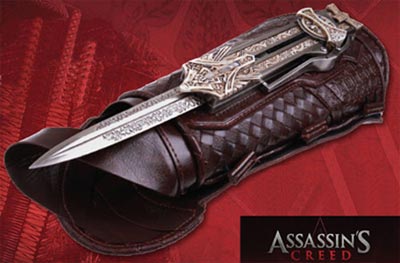 Assassins Creed Movie:
Hidden Blade of Aguilar
Extension Knife Vambrace
Stainless Steel Blade
$79.99


Assassins Creed Hidden Blade of Aguilar is an officially licensed replica from the movie. This brown leather vambrace features a woven pattern on the top and the hidden blade of Aguilar underneath it. The interior has two Velcro straps to secure it to the arm and a strap for the right hand. The unsharpened stainless steel blade can be extended by sliding the blade release on the side. The blade extends out to 5 inches. It is engraved with an acid etched pattern and features a pointed tip. These extension knives also include a Certificate of Authenticity. These items are not a toy. They should be handled with care. The tip is pointed and can cause harm. Buy the Hidden Blade of Aguilar from the movie Assassin's Creed for $79.99.


Popular Licensed Movie Replicas