American Owned and Operated - 100% American Based Customer Service - Custom Sword Engraving - No Accounts Required
Official WKC Marine NCO Swords
WKC is the oldest existing production factory for edged swords. They produce handmade, durable swords that feature ceremonial blades and are built to strict military regulations. These high quality unsharpened swords are handmade in Solingen, Germany. Buy these beautifully made, top quality WKC swords for ceremonies, drills and displays.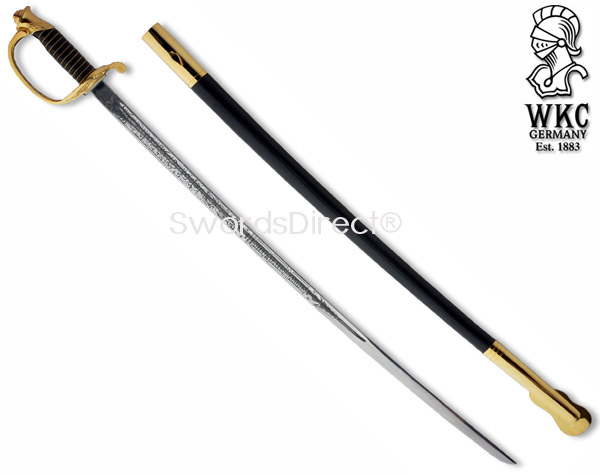 WKC Swords:
Marine NCO Swords
Matching Scabbard
Military Specifications
Made in Solingen Germany
$529.99
Item: 88-302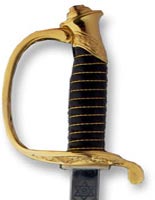 WKC Marine NCO Swords are handmade in Solingen, Germany. These official military swords are certified by the Marine Corps Systems Command (MARCORSYSCOM) and feature an acid etched United States Marine Corps pattern on the blade. The stainless steel blade has an unsharpened edge which makes them ideal for drills, ceremonies, military retirement presentations and display. These swords are built to the highest military specifications and include the certification number etched on the spine of the blade near the hilt. They are hand polished and have a carbon steel tube scabbard that is covered with black leather. The scabbard has 24kt gold plated brass mountings. These military swords feature hand polished brass fittings that are plated in real 24kt gold. They have a plastic grip that is covered in real leather with twisted brass wire. These sabers include a protective cloth storage bag. Buy the certified and official WKC Marine NCO Swords $529.99.

Sword Engraving Services
Personalize Swords and Knives:
- As Low As $25 Per Piece
- Individualize Each Piece
- Engrave Logos and Text
- Engrave Names and Phrases
- Engrave Your Logo
- Choose From Assorted Fonts
Click Here To Customize
Military Swords
Award Ceremonies
Executive Gifts
Private Organizations
Holidays & Birthdays
Weddings & Celebrations