Full Size Trident with High Carbon Steel Head
Medieval axes for sale are available in a variety of styles. Most of these medieval axes feature hardwood shafts, steel axe heads and are designed like real axes that were used in Europe and by Vikings. Buy all types of popular medieval axes, maces and functional battle replicas all on sale now.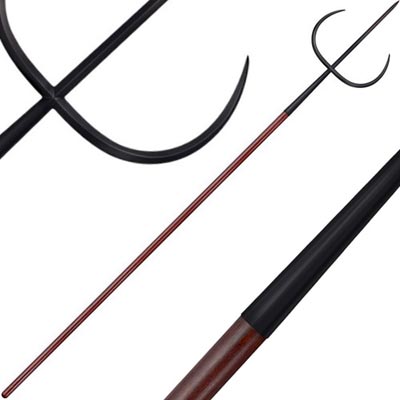 Trident Spears:
Poseidon Trident
High Carbon Steel
Solid Ash Wood Pole
Full Size
$219.99
Poseidon Trident for sale is over 7 feet long measuring 89 inches in all. These massive tridents feature an all black traditional three fork design with an elongated center spike. The beautifully crafted 1055 carbon steel head of the trident is 25 inches by 14 ¼ inches and weighs 35.6 ounces. The handle is 64 inches of solid Ash Wood and is shipped detached from the trident's head. The assembled weight is 66 ounces with the total assembled length at 89 inches. Buy the Poseidon Trident for $219.99.