Union Sword Belts with Buckle
Military belts and sword frogs for sale are available for all types of military uniforms. Military belts, sword belts and frogs feature US Army, USMC, Air Force, Union and Confederate belt buckles. We carry historical reproductions like the Brown Bess Musket belts as well as ceremonial, officer dress sword and enlisted personnel belts. Buy all kinds of military frogs and sword belts all on sale now.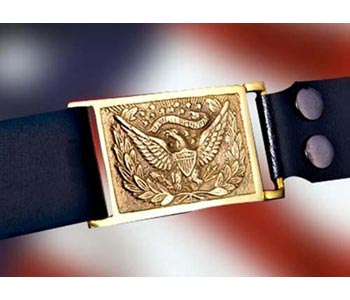 Union Sword Belts
$89.99


Union Sword Belts for sale fit waist size 37 to 42 inch and can be adjusted for smaller waists by punching holes into the leather. Union Sword Belts are made of real leather and feature an intricate relief of an eagle along with the E Pluribus Unum banner on the square, genuine brass buckle. They have two straps that can be attached to the rings on the scabbard of a saber. These sword belts are made to carry all types of popular military swords, sabers and their scabbards. Buy the Union Sword Belts for only $89.99.