American Owned and Operated - 100% American Based Customer Service - Custom Sword Engraving - No Accounts Required
Leather Navy Officer Sword Belts
Military belts and sword frogs for sale are available for all types of military uniforms. Military belts, sword belts and frogs feature US Army, USMC, Air Force, Union and Confederate belt buckles. We carry historical reproductions like the Brown Bess Musket belts as well as ceremonial, officer dress sword and enlisted personnel belts. Buy all kinds of military frogs and sword belts all on sale now.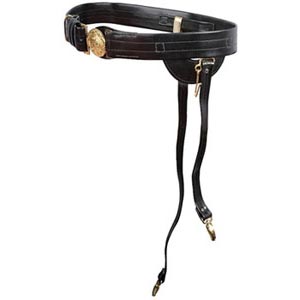 Navy Officer Sword Belt
$89.99


Navy Officer Ceremonial Sword Belts for sale are made of black leather. These ceremonial sword belts are made for use with the Navy Officer Sword and feature a gold-plated buckle. These sword belts are available in several sizes. To find the correct size, measure over the uniform and choose among sizes: 30 – 34 inch, 36 – 38 inch, 40 – 44 inch and 46 – 48 inch. Buy these Navy Officer Ceremonial Sword belts to carry your military saber for $89.99.


Sword Engraving Services
Personalize Swords and Knives:
- As Low As $25 Per Piece
- Individualize Each Piece
- Engrave Logos and Text
- Engrave Names and Phrases
- Engrave Your Logo
- Choose From Assorted Fonts
Click Here To Customize
Military Swords
Award Ceremonies
Executive Gifts
Private Organizations
Holidays & Birthdays
Weddings & Celebrations