Functional Shamshir Sword with Custom Scabbard
Scimitar Swords and Shamshir Swords in assorted styles and sizes. These popular curved bladed swords are available in short decorative sizes made of stainless steel to functional high carbon steel Scimitar Swords.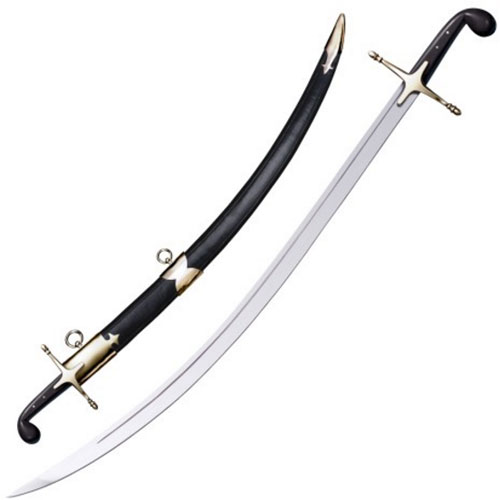 Scimitar Swords:
Shamshir Swords
Functional Blade
Custom Scabbard
$249.99


Cold Steel Shamshir Swords for sale are 36 ¼ inches in all. These functional swords are inspired by real swords that had a deeply curved scimitar style blade and were popular in Persia. The sharp 30 ½ inch heat treated 1055 high carbon steel blade terminates in a sharp point and features a hard spring temper that will pass the British Proof Test. The Shamshir has a brass crossbar hilt with a 5 ¾ inch faux buffalo horn handle that is capped with a bulbous pommel. The handmade scabbard is crafted of thick black leather to reduce blade dulling when sheathed. The scabbard is reinforced by a brass throat and chape and has dual suspension rings. Buy the Cold Steel Shamshir Swords for $249.99.
---