American Owned and Operated - 100% American Based Customer Service - Custom Sword Engraving - No Accounts Required
Navy Cutlass Swords with Custom Scabbard
Pirate Swords for sale are available in a variety of designs. Decorative and display cutlasses are light and an ideal choice for awards and ceremonies. Cutlasses and cupped handle designs are popular for costumes, pirate themed weddings and for stage. Buy all types of pirate swords, scimitars and cutlasses for display and reenactment all on sale now.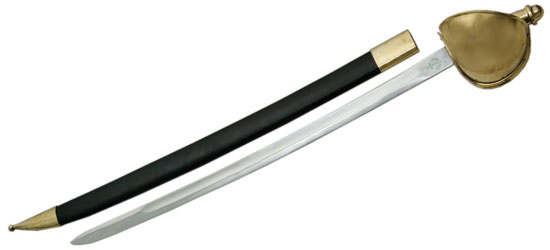 Pirate Swords:
Naval Cutlass Swords
$119.99


Navy Cutlass Swords for sale are 35 ½ inches in all. These pirate swords are inspired by the real 1860 Navy Cutlass that had a large hand guard cup. These swords have an unsharpened 27 inch steel blade. The grip features imitation leather with a brass wire wrap. They include a black faux leather scabbard which features a brass color metal tip and a brass color metal throat. Buy the popular Navy Cutlass Swords for $119.99.
---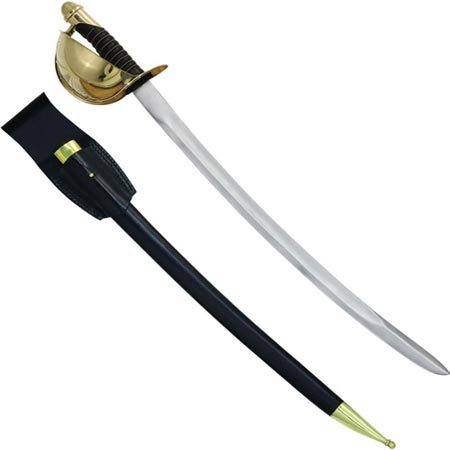 Military Swords:
Navy Cutlass Swords
Stainless Steel Blade
Custom Scabbard with Frog
$159.99
1860 US Naval Cutlass Swords are 33 inches in all. These popular swords are inspired by the actual 1860 US Navy Cutlasses that were used by the US Military. This cutlass features an unsharpened 27 inch stainless steel blade with a pointed tip. The black leather covered handle features a gold wire wrap and a large brass colored cup hand guard. The leather covered scabbard has shiny polished gold colored fittings. The scabbard also features a frog that supports belts up to 2 ½ inches. Buy these Navy Cutlass Swords for $159.99.
---