American Owned and Operated - 100% American Based Customer Service - Custom Sword Engraving - No Accounts Required
Scimitar Swords for Sale
Scimitar Swords and Shamshir Swords in assorted styles and sizes. These popular curved bladed swords are available in short decorative sizes made of stainless steel to functional high carbon steel Scimitar Swords.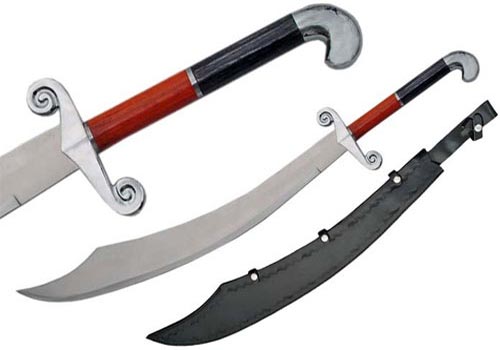 Pirate & Scimitar Swords:
Sinbad Pirate Scimitar
Full Size Wide Blade
$89.99


Sinbad Pirate Swords for sale are 37 inches in all. The Sinbad Pirate Sword features a curved scimitar style blade that is accented by a red and black colored wooden handle. The two colors on the handle are divided by a mirror polished chrome spacer. The chrome spacer matches the bulbous chrome pommel and shiny swirled handle. These swords have a 26 ½ inch stainless steel blade that has a display ready factory edge and ends in a severely pointed tip. They include a black imitation leather scabbard which snaps shut. Buy these popular Sinbad Pirate Swords for $89.99.
---