American Owned and Operated - 100% American Based Customer Service - Custom Sword Engraving - No Accounts Required
Date Masamune Samurai Helmet with Display Stand
Samurai Helmets for sale are museum quality replicas. These popular battle helmets are made like Kabuto worn by ancient Japanese warriors and are considered a vital part of traditional Japanese armor worn by the samurai. They feature historical details and are fully wearable, full sized Japanese helmets. Buy these Japanese samurai helmets that include a display stand and authentic styling.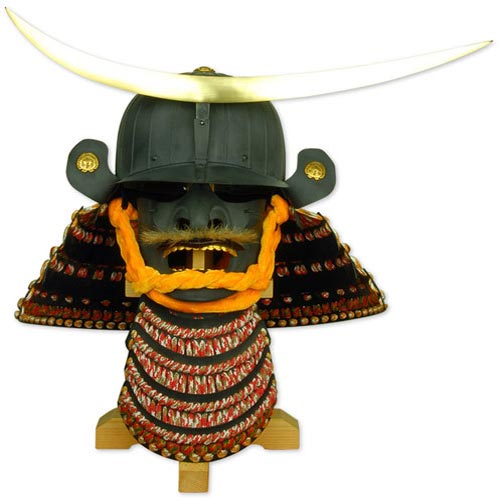 Samurai Helmets:
Date Masamune
Samurai Helmet with Mask
Includes Display Stand
$529.99


Date Masamune Helmet for sale is a museum quality replica. These popular helmets are designed like the Kabuto worn by the famous samurai Date Masamune, who was known as the one-eyed dragon. They feature the crescent moon shape and are made in China. They are an antiqued charcoal gray color steel with gold plated accents and real horse hair. These battle helmets are full size and wearable. They have a leather lining and a neck protector that has a colorful cloth embellishment. These authentic samurai helmets include a custom designed display stand. They are crafted of steel and weigh 7 pounds 8 ounces. Buy the authentically styled historically accurate Date Masamune Samurai Helmets for only $529.99.
---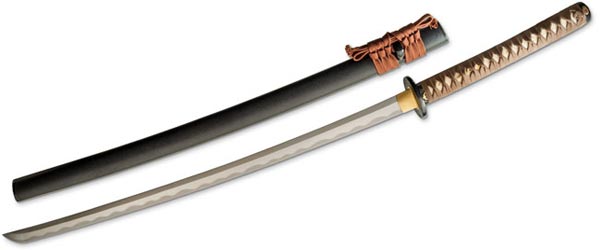 Samurai Helmets:
Date Masamune Katana
Forged Steel Blade
Brown Suede Wrapped Handle
Includes Custom Saya
$599.99


Date Masamune Katana Sword is 40 5/8th inches in all and weighs 2 pounds 9 ounces. From the popular Generals Series by Hanwei, this katana features the motif of the One-Eyed Dragon of Oshu Date Masamune. The 27 ¼ inch forged steel blade has a prominent and deep hamon and is well-balanced for cutting. The tsuba is engraved with a depiction of Date Masamune holding a war fan. The blade side of the tsuba features soldiers. The kashira is embossed with a blackened one-eyed dragon which is contrasted by the kashira with a gold embossed falcon. The 12 ¼ inch handle features a traditional brown suede wrap over white ray skin. The detailed gold menuki features Date's kabuto on one side with his breastplate and shoulder armor on the other side. The black textured scabbard has a brown cotton sageo and buffalo horn kurikata and kojiri. The blade steel is 65mn, HRC edge is 60 and HRC back is 40. Buy the Date Masamune Katana Sword for $599.99.

Sword Engraving Services
Personalize Swords and Knives:
- As Low As $25 Per Piece
- Individualize Each Piece
- Engrave Logos and Text
- Engrave Names and Phrases
- Engrave Your Logo
- Choose From Assorted Fonts
Click Here To Customize
Military Swords
Award Ceremonies
Executive Gifts
Private Organizations
Holidays & Birthdays
Weddings & Celebrations