American Owned and Operated - 100% American Based Customer Service - Custom Sword Engraving - No Accounts Required
Last Blood MK-9 Heartstopper Knife with Premium Sheath
Rambo Last Blood Movie Knives for sale are officially licensed movie replicas. These premium edition knives are exact replicas of those carried by Sylvester Stallone in the popular Rambo movies. Official Knives are available from the movies First Blood Part 1, First Blood Part II and Rambo III. The Rambo Machete from the fourth installment in the series and a boot knife are also available. Buy the entire Rambo Movie Knife Collection on sale now while supplies last.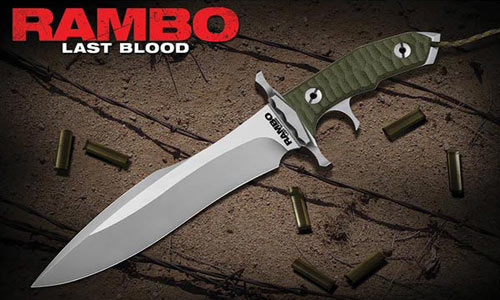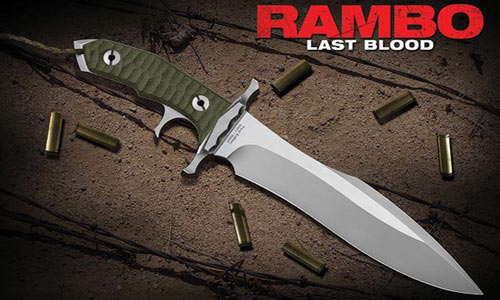 Official Rambo Last Blood Movie Knives:
Rambo MK-9 Heartstopper Knife
Includes Premium Leather Sheath
First Edition - Serialized
$199.99
Taking Backorders
Estimated to Ship: August/September


Official Rambo Last Blood Heartstopper Knife is 15" overall. These massive knives have a 9" spearpoint hand ground, polished high quality stainless steel blade. Knife has a machined hand guard and a sub-hilt for exceptional control of the knife. Knife has intricately sculpted textured handle scales and includes a high quality brown buffalo hide leather sheath with leg tie and camo paracord lanyard. This is an officially licensed replica that was created based on an actual knife used in connection with the production. Buy the official Rambo Last Blood Heartstopper Movie Knives for $199.99.
First Edition
Serialized Limited Edition of 5000
Certificate of Authenticity with Matching Serial Number
This Item Cannot Be Shipped to New York
Reserve Yours Now
Pre-Order Rambo Heartstopper Knife
Credit Cards Will Not Be Charged Until Stocked