Real Swords - Real Knives - Popular Movie Replicas - Flat Rate Shipping - Simple Secure Checkout - No Accounts Required
Excalibur Swords for Sale
Excalibur Swords for sale include all types of sizes and patterns. This wide variety of swords includes King Arthur Excalibur Swords, Masonic Swords, Knight Templar Swords and movie replicas. Battle ready medieval swords offered feature functional high carbon steel blades. Buy all types of popular Excalibur Swords, King Arthur Swords and Knight Templar Swords on sale now.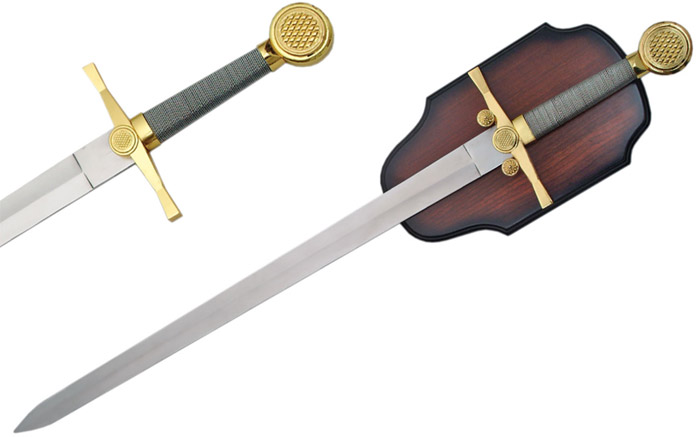 Excalibur Swords:
Excalibur Sword
Includes Wall Display
$49.99


Medieval Excalibur Swords for sale are designed to honor the tradition of King Arthur and the Knights of the Round Table. This version measures 35 inches in all and weighs approximately 3 pounds. It features a 26 inch unsharpened stainless steel blade and a traditional wire wrap on the grip. They have a gold colored handle and gold colored cast metal cross guard. The gold colored wheel pommel features a medieval pattern in the center of the circle. These swords also include a wooden wall display plaque. Buy the Medieval Excalibur Swords for only $49.99.
---

Excalibur Swords:
Excalibur Daggers
$24.99


Excalibur Dagger for sale is 14 ½ inches in all. These medieval daggers feature a 9 5/8th inch unsharpened stainless steel blade. The stainless steel wheel pommel features medieval designs. The guard also has intricate medieval designs. The black faux leather covered scabbard has sculpted stainless steel fittings. Buy the Medieval Excalibur Dagger for $24.99.