Medieval Excalibur Swords with Wall Display for Sale
Excalibur swords for sale range from King Arthur daggers to two-handed Marto Claymore Swords. This collection includes Knight Templar, ceremonial Masonic designs and movie swords like the replica from Robin Hood. Buy these popular medieval Excalibur Swords and more all on sale.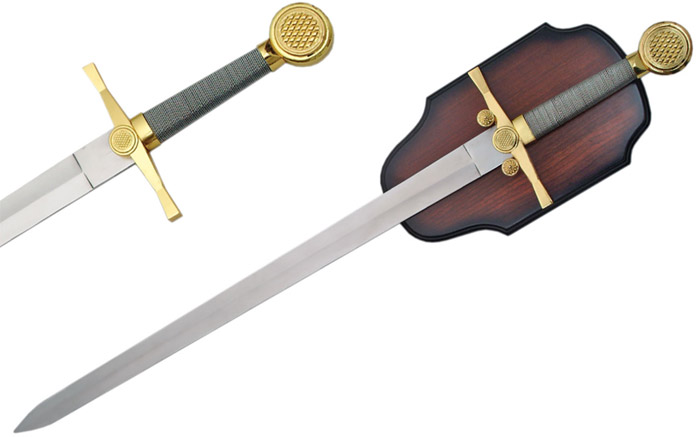 Excalibur Swords:
Excalibur Swords with Display
$49.99


Medieval Excalibur Swords for sale are designed to honor the tradition of King Arthur and the Knights of the Round Table. This version measures 35 inches in all and weighs approximately 3 pounds. It features a 26 inch unsharpened stainless steel blade and a traditional wire wrap on the grip. They have a gold colored handle and gold colored cast metal cross guard. The gold colored wheel pommel features a medieval pattern in the center of the circle. These swords also include a wooden wall display plaque. Buy the Medieval Excalibur Swords for only $49.99.
---

Excalibur Swords:
Excalibur Daggers
$29.99


Excalibur Dagger is 14 1/2" overall. It has a 9 5/8" unsharpened polished stainless blade. Sculpted cast metal handle, guard and pommel with matching scabbard.