American Owned and Operated - 100% American Based Customer Service - Custom Sword Engraving - No Accounts Required
The Legendary Excalibur and Collector Grade Swords
Collector Grade Swords for sale include a selection of functional high carbon steel bladed swords with premium fittings and custom matching scabbards. These swords are inspired by famous historical figures and time periods. Own your piece of history.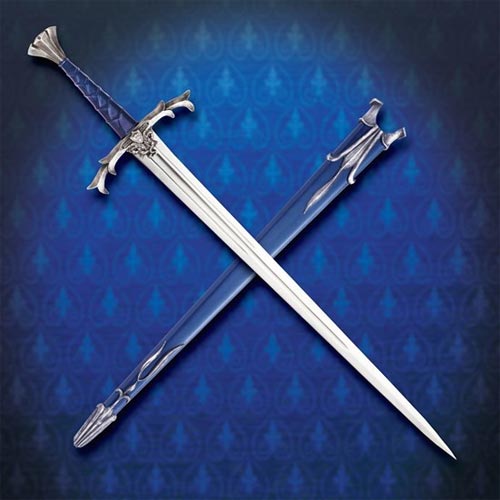 Excalibur Swords:
Legendary Excalibur Sword
Functional High Carbon Steel Blade
Sharpened Version
Includes Custom Scabbard
$399.99


Legendary Excalibur Swords are 43 inches in all and weigh 3 ¼ pounds. This contemporary version of the legendary Excalibur sword features functional construction with a high carbon steel blade that is sharpened. The motif of the sword follows the popular stories of Camelot from the time of the author Sir Thomas Malory in which Excalibur was drawn from a stone and lead Arthur Pendragon's lineage to the throne of England. The 7 ¼ inch grip is accommodating for two hands and, like the wooden scabbard, is wrapped in soft blue real leather. The 2 ½ inch wide blade measures 32 ½ inches. The metal fittings have an antique finish and emulate the flowers of a new spring. The scabbard is adorned with antique finish flower-like metal fittings. Buy the Legendary Excalibur Swords for $399.99.
Limited Availability - Check Stock Before Ordering