American Owned and Operated - 100% American Based Customer Service - Custom Sword Engraving - No Accounts Required
Functional Medieval Crusader Shields
Medieval Shields of all types are for sale. Shield shapes available include round and medieval kite shields. Also available are functional bucklers, shields from popular movies and medieval display shields made by Marto. Buy all types of shields on sale now.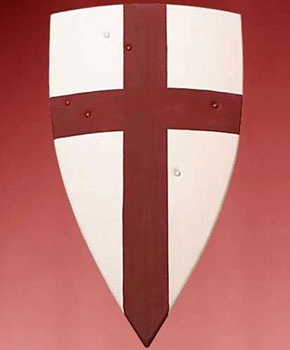 Medieval Shields:
Crusader Shields
Solid Wood and Canvas Wrap
$259.99


Medieval Crusader Shields for sale are crafted of solid wood. These Medieval Crusader Shields feature the red cross of the Order of the Knight Templar, the famous Christian military order. These shields are covered in white canvas with the red painted cross on the front; the hue of the cross may vary. They feature leather arm and shoulder straps. They measure approximately 32 inches by 20 inches. Buy the Medieval Crusader Shields for $259.99.