American Owned and Operated - 100% American Based Customer Service - Custom Sword Engraving - No Accounts Required
Battle Ready European Sallet Helmets
Medieval helmets and battle ready armor are for sale from the top manufacturers. The battle ready armor, bucklers and the functional medieval helmets are designed for reenactment. The medieval shields, samurai armor and full sized suits of armor are exceptional display pieces. Buy all types of medieval helmets and battle ready armor on sale now.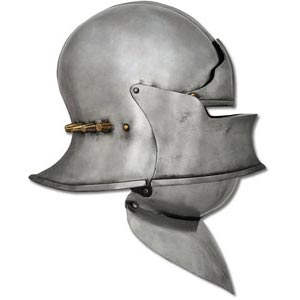 Medieval Battle Helmets:
European Sallet Helmets
Full Size Helmet with Visor
Battle Ready
$239.99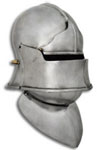 European Sallet Helmets for sale are battle ready helmets that weigh 11 pounds. The European Sallet Helmets are inspired by medieval helmets that were popular in Europe during the late 15th century. This contemporary version has a moveable visor. These 14 gauge steel battle ready helmets are designed for reenactment with a reinforcing brow plate and a bevor for protection of the jaw and throat. They have an adjustable leather liner and chinstrap. This version is a battle ready replica of a real helmet found in the church at Witton-le-Wear in County Durham, England. Buy these Battle Ready European Sallet Helmets for reenactment for only $239.99.

Sword Engraving Services
Personalize Swords and Knives:
- As Low As $25 Per Piece
- Individualize Each Piece
- Engrave Logos and Text
- Engrave Names and Phrases
- Engrave Your Logo
- Choose From Assorted Fonts
Click Here To Customize
Military Swords
Award Ceremonies
Executive Gifts
Private Organizations
Holidays & Birthdays
Weddings & Celebrations