American Owned and Operated - 100% American Based Customer Service - Custom Sword Engraving - No Accounts Required
Cold Steel Lightweight Small Swords
Cold Steel Swords for sale include a diverse selection of functional pieces. Shop with confidence that these are official Cold Steel items from one of the top manufacturers. Buy all types of swords, knives and canes from Cold Steel on sale now. Official swords start at only $199.99.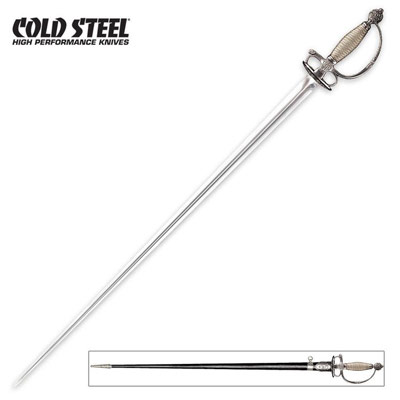 Cold Steel Swords:
Small Swords
Triangular Rapier Blade
High Carbon Steel
Custom Scabbard
$299.99


Cold Steel Small Swords for sale are a full sized 38 ¼ inches in all and a lightweight 22 ounces. These Small Swords have a 31 ¼ inch triangular shaped rapier blade that terminates in an extreme point. The functional blade is forged in heat treated 1055 carbon steel resulting in a tough spring temper. The traditional hilt features two shells with finger loops and an elegant but sturdy hand guard. The real leather scabbard features an elaborately embellished chape and throat. Buy the popular Cold Steel Small Swords for $299.99.