American Owned and Operated - 100% American Based Customer Service - Custom Sword Engraving - No Accounts Required
Man at Arms Hand and a Half Sword with Scabbard
Man at Arms Swords (MAA) Collection includes medieval and historical designs for sale. Cold Steel created the Man at Arms Series of swords, daggers, medieval axes and maces to be both affordable and functional. Buy all types pieces from the Cold Steel Man At Arms Collection on sale now.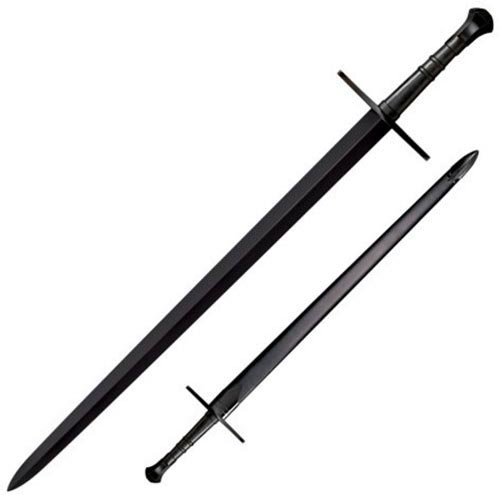 Cold Steel Swords:
Man At Arms
Hand and a Half Swords
High Carbon Steel Blade
Includes Custom Scabbard
$259.99


Man at Arms Hand and a Half Swords for sale are 45 ½ inches in all. These Hand and a Half Swords are inspired by real medieval bastard swords and have been reproduced in this contemporary Cold Steel version that features a functional and sharp blade. The 33 ½ inch 1055 high carbon steel blade is ¼ inch thick and features the famous MAA (Man At Arms) blued finish and a wide fuller. The 12 inch handle is capable of being used as either a single hand or two-handed grip and is capped with a traditional scent stopper pommel. Both the handle and scabbard are crafted of wood and covered in real black leather. The scabbard features matching blued steel fittings. These swords weigh 50.4 ounces. Buy the popular Man At Arms Hand and Half Swords by Cold Steel for $259.99.