American Owned and Operated - 100% American Based Customer Service - Custom Sword Engraving - No Accounts Required
Dead Walker Sword and Knife Set
Sword Sets for sale are available in a variety of themes. Choices of sword sets include ninja, roman and samurai katana sets. Most ninja and roman sets feature a scabbard that can hold all of the swords. The samurai sword sets typically include a katana and two other Japanese swords along with a tabletop display stand. Buy all kinds of popular sword sets and displays on sale now.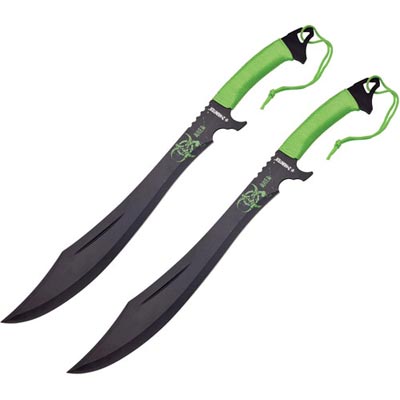 Swords Sets:
Dead Walker Sword Set
$39.99


Dead Walker Swords Set for sale includes three pieces and a black nylon sheath to carry them all. These sword set includes a full size sword and two throwing knives. The full tang sword is 27 inches in all with a 20 inch black finished stainless steel blade. The handle features a traditional cord wrap and is capped by a circular ring style pommel with a black cord lanyard. The two throwing knives are 5 ¾ inches in all with a 3 ¼ inch blade. They are crafted of stainless steel with a coordinating black finish. Buy the popular Dead Walker Swords Set for $39.99.