American Owned and Operated - 100% American Based Customer Service - Custom Sword Engraving - No Accounts Required
Forged High Carbon Steel Iga Ninja-To Swords
Ninja Swords for sale are available in all types of sizes. Ninjato, Ninjaken or Shinobigatana are the names used for the type of sword wielded by the Ninja of ancient Japan. Although the traditional length was short, full length swords with a square tsuba have also become referred to as Ninja Swords. Buy all types of functional and display Ninja Swords on sale now.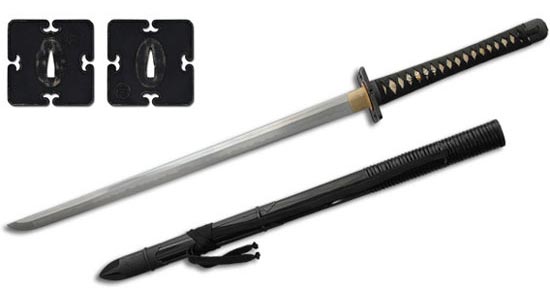 Ninja Swords:
Iga Ninja-To Swords
Forged High Carbon Steel
$499.99


Iga Ninja-To Swords for sale are 33 inches in all and weigh 2 pounds 3 ounces. These popular swords are from the series designed to commemorate the warring ninja families of the Kouga and Iga clans of feudal Japan. They feature a functional 22 inch 1566 forged high carbon steel blade. The sharpened blade is differentially quenched to an edge hardness of 60HRc. They have a double pegged dismountable tsuka. The 10 ½ inch handle features a traditional wrap over natural rayskin with a clouds, sun, water and moon themed Menuki. The blackened iron Tsuba featuring the Iga Mon and a wave motif. The black wooden scabbard features a reinforced spiked end and is accented by a partial rattan wrap. These popular ninja swords are designed specifically for the Ninjutsu practitioner and feature premium fittings throughout. Buy the Iga Ninja-To Swords for $499.99.

Sword Engraving Services
Personalize Swords and Knives:
- As Low As $25 Per Piece
- Individualize Each Piece
- Engrave Logos and Text
- Engrave Names and Phrases
- Engrave Your Logo
- Choose From Assorted Fonts
Click Here To Customize
Military Swords
Award Ceremonies
Executive Gifts
Private Organizations
Holidays & Birthdays
Weddings & Celebrations