Full Tang Dual Ninja Swords Set with Sheath
Sword Sets for sale are available in a variety of themes. Choices of sword sets include ninja, roman and samurai katana sets. Most ninja and roman sets feature a scabbard that can hold all of the swords. The samurai sword sets typically include a katana and two other Japanese swords along with a tabletop display stand. Buy all kinds of popular sword sets and displays on sale now.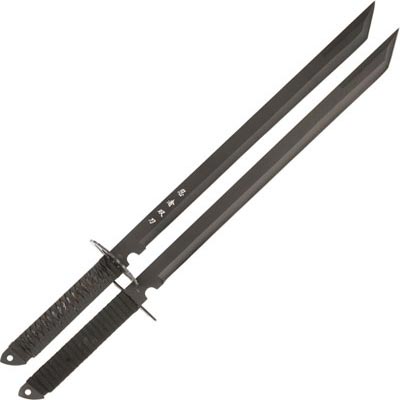 Dual Ninja Swords
Full Tang
$39.99


Dual Ninja Swords for sale feature two 28 inch swords. These Dual Ninja Swords each have half of a tsuba and appear to be a singular sword when the two swords are held together. The sharpened 10 ¾ inch steel blade has a black finish and features Japanese writing. They are full tang and feature a black cord wrapped handle. The black nylon scabbard hold both swords together and features shoulder straps. Buy the Dual Ninja Swords for $39.99.