Guan Dao Swords Made by Z-Hunter
Ninja Swords for sale are available in all types of sizes. Ninjato, Ninjaken or Shinobigatana are the names used for the type of sword wielded by the Ninja of ancient Japan. Although the traditional length was short, full length swords with a square tsuba have also become referred to as Ninja Swords. Buy all types of functional and display Ninja Swords on sale now.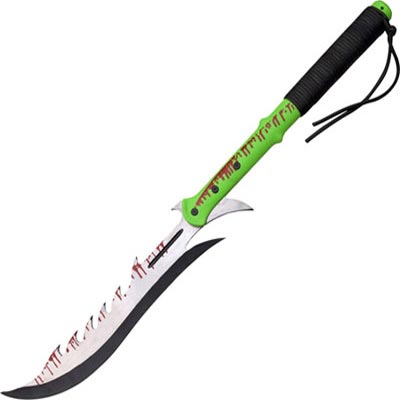 Custom Swords:
Guan Dao Swords
$29.99


Guan Dao Short Swords for sale are 27 ¾ inches in all. These popular swords are modeled after the Chinese pole arm that was used in Chinese martial arts. This contemporary version features the famous reclining moon blade with a two toned finish and red splatters. The 13 inch stainless steel blade has a wide tooth saw back and sharpened spikes. They feature a single piece, textured toxic zombie green nylon fiber handle. The handle features a cord wrap and a lanyard. The Guan Dao includes a black nylon belt sheath. Buy the Guan Dao Short Swords for $29.99.