American Owned and Operated - 100% American Based Customer Service - Custom Sword Engraving - No Accounts Required
Steven Seagal Swords
Steven Seagal Sword Series for sale includes all types of pieces. The Sword Breaker and Helmet Breaker are inspired by real pieces from the personal collection of Steven Seagal that have been reproduced by Cold Steel. Buy all types of pieces designed by the famous movie actor on sale now.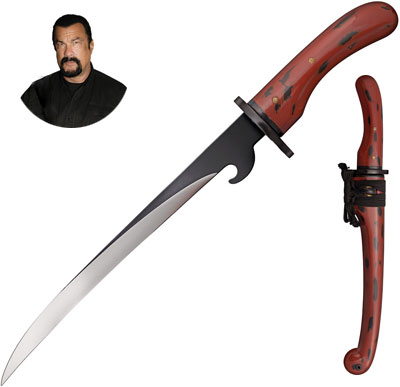 Steven Seagal Sword Series:
Helmet Breaker
1090 High Carbon Steel Blade
Custom Scabbard
$299.99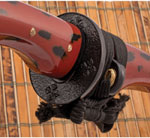 Steven Seagal Helmet Breaker Swords for sale are 19 ¼ inches overall. This Helmet Breaker is made by Cold Steel in collaboration with Martial Arts Master and famous movie actor Steven Seagal and is inspired by a real antique piece from his personal collection. The Helmet Breaker was a powerful parrying tool used by Japanese warriors to block, hook and parry the sword or pry open armor of an opponent including armored samurai. This contemporary version is reproduced using specifications provided by Steven Seagal including a thick spine and stout upturned hook. The Helmet Breaker has a polished 13 inch 1090 high carbon steel blade that is 12.7 mm thick and a 6 ¼ inch handle. To mirror the antique original, the hardwood scabbard is hand painted and distressed. It is finished with a silk cord wrap. Buy the Steven Seagal Helmet Breaker for $299.99.
---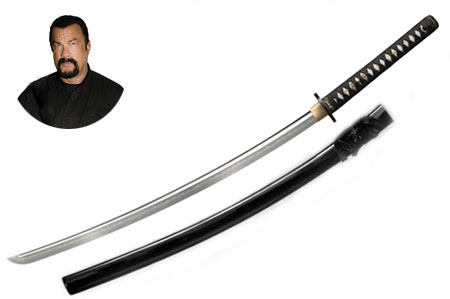 Steven Seagal Sword Series:
Katana Sword
Damascus Steel
Custom Scabbard
$699.99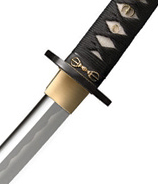 Steven Seagal Signature Katana Swords for sale are 46 inches in all and weigh 48.4 ounces. This popular katana is made by Cold Steel and was inspired by a real Japanese Tachi style antique sword from the personal collection of famous Martial Arts movie master Steven Seagal. This contemporary version features a 33 inch sharpened Damascus steel blade that is 8 mm thick. These curved katanas have a distal tapered and convex ground blade that has been differentially hardened with a clay tempered hamon. The 13 inch handle features white real ray skin with a traditional Japanese wrap and a brass menuki. The wooden scabbard features a shiny black lacquer. These swords feature a Vajra motif in the Tsuba, Fuchi and Menuki. The Vajra symbolizes the strength of a diamond and the force of a thunderbolt while simultaneously representing enlightenment. Buy the Steven Seagal Signature Katana Swords for $699.99.