American Owned and Operated - 100% American Based Customer Service - Custom Sword Engraving - No Accounts Required
Wearable Full Size Corinthian Battle Helmets
Roman Swords for sale include a variety of functional and display swords. These pieces include designs like traditional gladiator, Gladius Maintz and Roman Spartan swords. Buy all types of popular Roman swords, daggers and armor on sale now.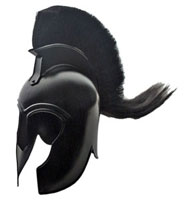 Corinthian Battle Helmet
Full Size Helmet
$79.99


Corinthian Helmets for sale feature a traditional Mohawk crafted of black horsehair. These popular medieval helmets are made of heavy 18 gauge steel. These helmets are designed after real helmets worn in Ancient Greece and Rome. This helmet is wearable. However, it is not lined and may fit more comfortably with an Arming Cap. These helmets pair will with our Spartan and Roman swords. Buy the medieval Corinthian Helmet fit for a true Spartan warrior for only $79.99.