American Owned and Operated - 100% American Based Customer Service - Custom Sword Engraving - No Accounts Required
Functional Greek Hoplite Swords
Roman Swords for sale include a variety of functional and display swords. These pieces include designs like traditional gladiator, Gladius Maintz and Roman Spartan swords. Buy all types of popular Roman swords, daggers and armor on sale now.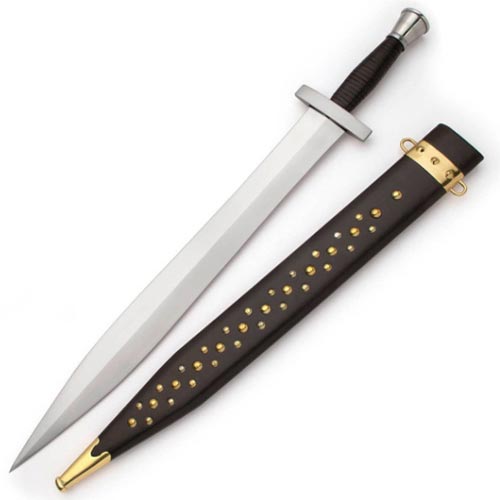 Roman Swords:
Greek Hoplite Swords
Functional Blade
Custom Scabbard
$159.99


Greek Hoplite Swords for sale are 28 ½ inches in all and weigh 2 ¼ pounds. These Hoplite Swords are inspired by real leaf shaped bladed Greek swords that were popular around 5th century BC. They have a functional 22 inch 1065 high carbon steel blade that is 2 1/8th inch wide and 3/16th of an inch thick. These Hoplite Swords have a steel guard and steel pommel. The 4 1/8th inch wooden grip is wrapped in real leather. The wooden scabbard is covered with genuine leather and features metal accents. Buy the Greek Hoplite Swords for $159.99.
---
Sharpen This Sword - Add $20 - Price: $179.99
---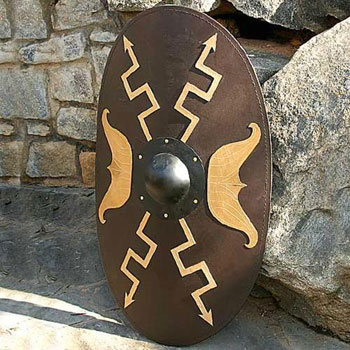 Medieval Shields:
Roman Shield
Functional Full Size Shield
Solid Wood, Steel and Leather
$219.99


Wooden Oval Roman Shields for sale weigh 7 pounds 4 ounces. These Wooden Oval Roman Shields are inspired by shields that were used by the Roman Cavalry, the horse mounted forces of the Roman Army. This contemporary version is an oblong shaped shield, like the scutum. It is manufactured of wood and covered both on the front and back with leather. They have a black steel shield boss. Gold leather lightning bolts and gold leather wings are featured on the front of the shield. The Wooden Roman Oval Shields have arm straps on the back. The shields are 39 inches high, 23 inches wide and 5/16th of an inch thick. Buy the Wooden Oval Roman Shields for $219.99.