American Owned and Operated - 100% American Based Customer Service - Custom Sword Engraving - No Accounts Required
Scottish Baskethilt Backswords with Scabbard
Scottish Swords for sale feature a variety of historical and traditional styles. Scottish Swords available include claymores, basket guard swords and William Wallace longswords. Buy all types of popular historical and medieval Scottish Swords on sale now.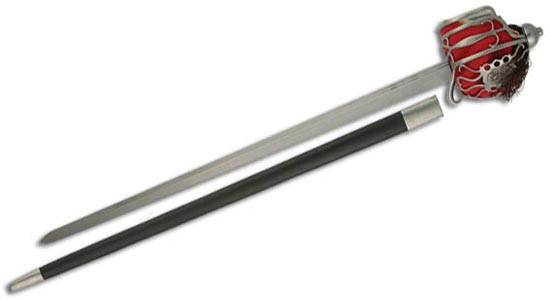 Scottish Swords:
Scottish Basket Hilt Backswords
High Carbon Steel Blade
Custom Scabbard
$429.99


Basket Hilt Backswords for sale combine authentic Scottish styling with modern day construction. These swords are modeled after a real 18th century backsword but updated with contemporary materials such as the hilt which, in an effort to reduce maintenance, is made of stainless steel. The 32 ½ inch, functional blade is manufactured of high carbon steel. Similar to the German-style blade of the authentic backsword this blade features twin fullers throughout a majority of its length. The wire-wrapped 6 ½ inch grip is covered with genuine rayskin. These basket hilt swords measure 39 inches overall. The unusual basket features twin plaques which are stamped with a horned beastie insignia. These swords feature a basket liner manufactured of leather covered in fabric and a leather covered scabbard. These medieval backswords typically feature the following specifications: point of balance is 3 inches, width at guard 1.25 inch, width at tip .87 inch, thickness at guard .23 inch, thickness at tip .10 inches, point of harmonics is 21 inches, weight approximately 2lb 9oz. Buy the Basket Hilt Backswords which combine historical authentic detail with modern construction for $429.99.

Sword Engraving Services
Personalize Swords and Knives:
- As Low As $25 Per Piece
- Individualize Each Piece
- Engrave Logos and Text
- Engrave Names and Phrases
- Engrave Your Logo
- Choose From Assorted Fonts
Click Here To Customize
Military Swords
Award Ceremonies
Executive Gifts
Private Organizations
Holidays & Birthdays
Weddings & Celebrations