American Owned and Operated - 100% American Based Customer Service - Custom Sword Engraving - No Accounts Required
Golden Wrapped Samurai Swords Display Set
Sword Sets are available in a variety of themes. Choices of sword sets include ninja, roman and samurai katana sets. Most ninja and roman sets feature a scabbard that can hold all of the swords. The Samurai Sword sets typically include a katana, Wakizashi and tanto along with a tabletop display stand. Buy all kinds of popular sword sets and displays on sale now.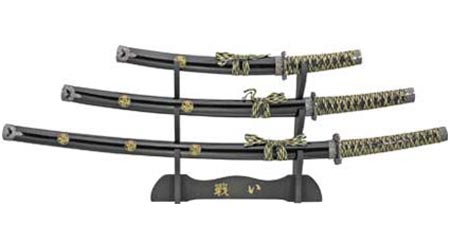 Swords Display Set:
Golden Samurai Swords Set Display
$119.99


Golden Samurai Swords Set for sale contains a samurai katana, wakizashi and a tanto. These three samurai swords are designed to be displayed together on a tabletop or desk with the free black wooden display stand. The 36 7/8th inch katana sword features a 26 1/8th inch stainless steel blade. The 27 7/8th inch wakizashi sword has a 18 ¼ inch stainless steel blade. The tanto is 18 1/8th inches in all with a 10 3/8th inch stainless steel blade. All three blades have a display ready factory edge and a simulated temper line. They have a black and gold cotton handle wrap. The wooden scabbards have a black shiny lacquer finish. Each scabbard features a golden circle with a flower. The katana has three circles, the wakizashi has two and the tanto has a singular circle. The black display stand is accented by golden colored Japanese letters. Buy this popular Golden Swords Set that includes a free tabletop display stand for $119.99.


Sword Engraving Services
Personalize Swords and Knives:
- As Low As $25 Per Piece
- Individualize Each Piece
- Engrave Logos and Text
- Engrave Names and Phrases
- Engrave Your Logo
- Choose From Assorted Fonts
Click Here To Customize
Military Swords
Award Ceremonies
Executive Gifts
Private Organizations
Holidays & Birthdays
Weddings & Celebrations