American Owned and Operated - 100% American Based Customer Service - Custom Sword Engraving - No Accounts Required
Samurai 3000 Sword Set with Display Stand
Sword Sets are available in a variety of themes. Choices of sword sets include ninja, roman and samurai katana sets. Most ninja and roman sets feature a scabbard that can hold all of the swords. The Samurai Sword sets typically include a katana, Wakizashi and tanto along with a tabletop display stand. Buy all kinds of popular sword sets and displays on sale now.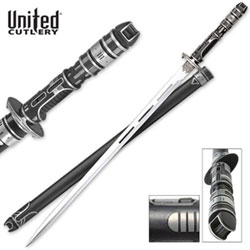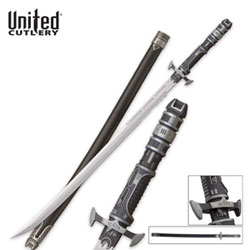 Swords Display Set:
Samurai 3000 Swords Set
Futuristic Sword Styling
Blade Locks Into Scabbard
Hidden Release Buttons


Samurai 3000 Swords Set for sale includes both the katana and ninja sword. This popular set features the two swords from the futuristic fantasy Samurai 3000 Series and includes a free stand to display them on a desk or tabletop. The 3000 Katana is 38 inches in all and has a sharp 28 1/8th inch 420-stainless steel blade. The ninja is 36 inches in all and has a sharp 26 inch 420-stainless steel blade. The blade locks into the scabbard and may only be released by a secret button located on the handle. The handle and the matching scabbard of both pieces in the 3000 series are made of precisely machined metal parts with a brushed metal finish. The handle is engraved with the code of justice, service, and honor written in the secret language of the future samurai.


Sword Engraving Services
Personalize Swords and Knives:
- As Low As $25 Per Piece
- Individualize Each Piece
- Engrave Logos and Text
- Engrave Names and Phrases
- Engrave Your Logo
- Choose From Assorted Fonts
Click Here To Customize
Military Swords
Award Ceremonies
Executive Gifts
Private Organizations
Holidays & Birthdays
Weddings & Celebrations