American Owned and Operated - 100% American Based Customer Service - Custom Sword Engraving - No Accounts Required
Functional Leather Covered Roman Shields
Medieval Shields of all types are for sale. Shield shapes available include round and medieval kite shields. Also available are functional bucklers, shields from popular movies and medieval display shields made by Marto. Buy all types of shields on sale now.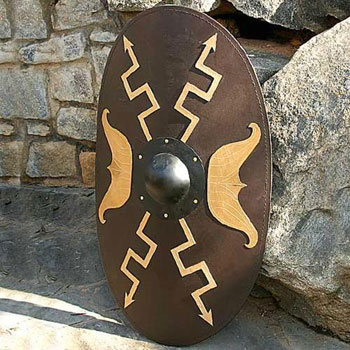 Medieval Shields:
Roman Shield
Solid Wood, Steel and Leather
$259.99
Wooden Oval Roman Shields for sale weigh 7 pounds 4 ounces. These Wooden Oval Roman Shields are inspired by shields that were used by the Roman Cavalry, the horse mounted forces of the Roman Army. This contemporary version is an oblong shaped shield, like the scutum. It is manufactured of wood and covered both on the front and back with leather. They have a black steel shield boss. Gold leather lightning bolts and gold leather wings are featured on the front of the shield. The Wooden Roman Oval Shields have arm straps on the back. The shields are 39 inches high, 23 inches wide and 5/16th of an inch thick. Buy the Wooden Oval Roman Shields for $259.99.

Sword Engraving Services
Personalize Swords and Knives:
- As Low As $25 Per Piece
- Individualize Each Piece
- Engrave Logos and Text
- Engrave Names and Phrases
- Engrave Your Logo
- Choose From Assorted Fonts
Click Here To Customize
Military Swords
Award Ceremonies
Executive Gifts
Private Organizations
Holidays & Birthdays
Weddings & Celebrations