Mithrodin Swords from the Kit Rae Collection
Fantasy Swords for sale include a wide variety of designs. This collection of fantasy swords includes latex and foam swords made for Cosplay, official Kit Rae collectibles and mythical creatures designed for display. Buy fantasy swords, knives and collectibles all on sale now.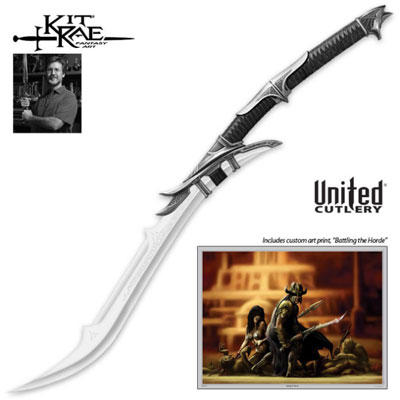 Kit Rae Swords:
Mithrodin Swords
Includes Art Print
$129.99


Kit Rae Mithrodin Swords for sale are 42 ¾ inches in all. These official Kit Rae swords feature a 23 ¾ inch mirror polished 420 stainless steel blade. The solid metal handle has an antique finish and features a real leather wrap. They include a certificate of authenticity and a free fantasy art print entitled Battling the Horde. Buy the official Kit Rae Mithrodin Swords for $129.99.